Memorial To A Marriage
Woodlawn Cemetery
Bronx, NY
November 3, 2002 - Eternity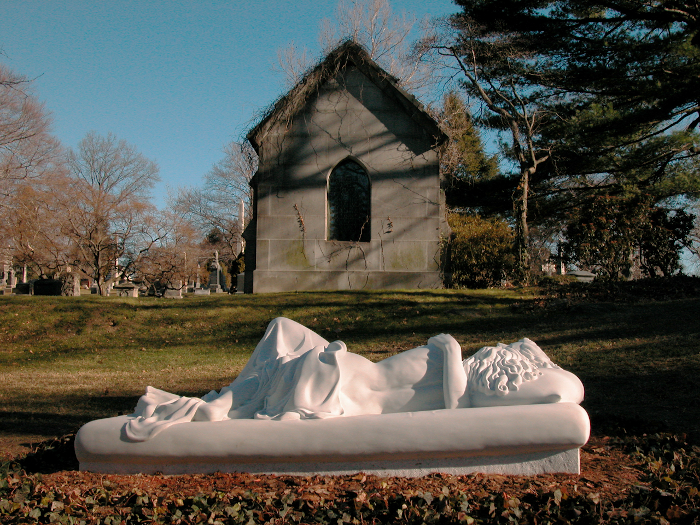 Carrara marble, over life size, 27 x 42 x 84 inches
Memorial To A Marriage (2002) is the first and only Marriage Equality monument in the world. Cronin created a three-ton Carrara marble, mortuary sculpture of herself and (now) wife, artist Deborah Kass, recumbent in an entwined embrace on a bed, when same sex marriage was illegal in the United States.
To simulate a few of the 1200 rights heterosexual marriage affords, homosexual couples could only acquire legal documents about the end of their lives, such as wills, health care proxies and powers of attorney documents. Employing the American Neo- classical sculptural form to address a federal failure of prohibiting same sex couples to legally wed, she purchased their burial plot in Woodlawn Cemetery, Bronx, NY a National Historic Landmark, and permanently installed the statue on their future final resting place. By acquiring her own land, she also addressed the scarcity of real women (as opposed to allegorical female forms) honored in public monuments.
Although the Supreme Court struck down the Defense of Marriage Act in 2013, making the United States the 29th country in the world, out of 195 countries, legally recognizing same sex marriage, homosexuality is still illegal and punishable up to death in 27 countries. This is still a major international human rights issue.
Memorial To A Marriage (2002) has been exhibited in over 50 exhibitions in the United States and abroad, including Brooklyn Museum, Brooklyn, American Academy in Rome, Rome, Italy, The FLAG Art Foundation, New York, Gallery of Modern Art, Glasgow, Scotland, Tampa Museum of Art, Tampa, FL, and Newcomb Art Museum, Tulane University, New Orleans, among others.
Bronze versions are in the permanent collections of the Smithsonian National Portrait Gallery, Washington, The Fuhrman Family Foundation, New York, Perez Art Museum Miami, Miami and Kelvingrove Art Museum and Gallery, Glasgow, Scotland. It is permanently on view in Woodlawn Cemetery, Bronx, NY and Kelvingrove Art Gallery and Museum, Glasgow, Scotland.
November 3, 2022 was the 20th anniversary of Memorial To A Marriage.
Installation Views
---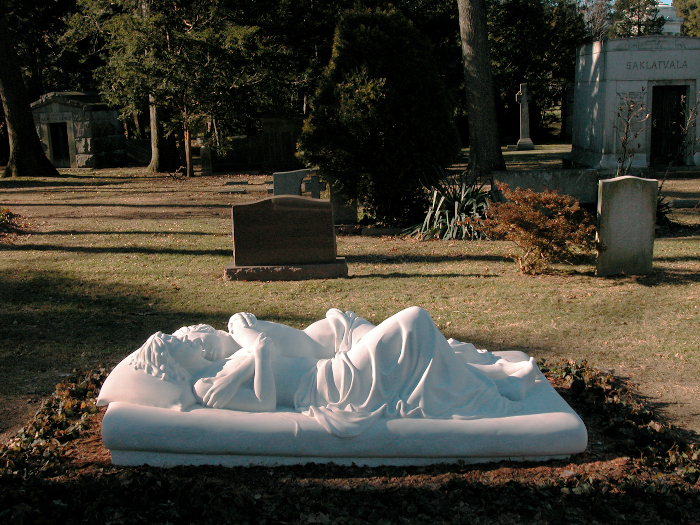 Woodlawn Cemetery, Bronx NY
November 3, 2002 - Eternity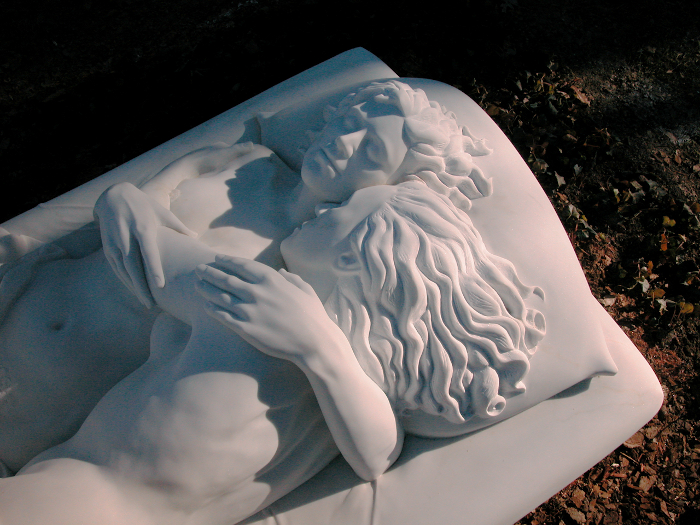 Woodlawn Cemetery, Bronx NY
November 3, 2002 - Eternity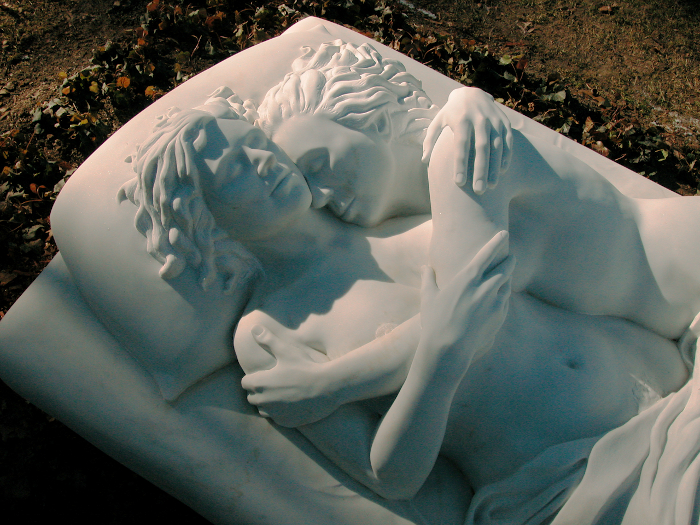 Woodlawn Cemetery, Bronx NY
November 3, 2002 - Eternity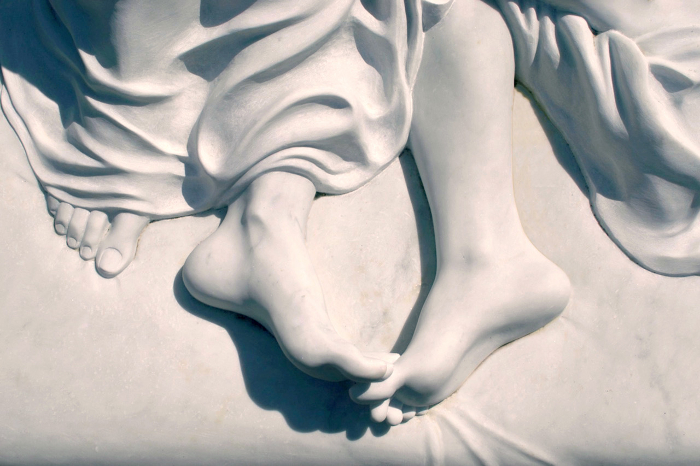 Woodlawn Cemetery, Bronx NY
November 3, 2002 - Eternity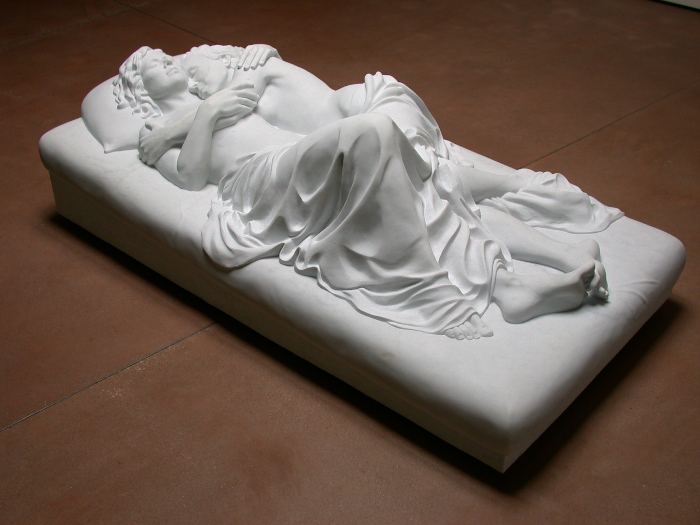 Memorial To A Marriage
Grand Arts, Kansas City, MO
September 6 - October 19, 2002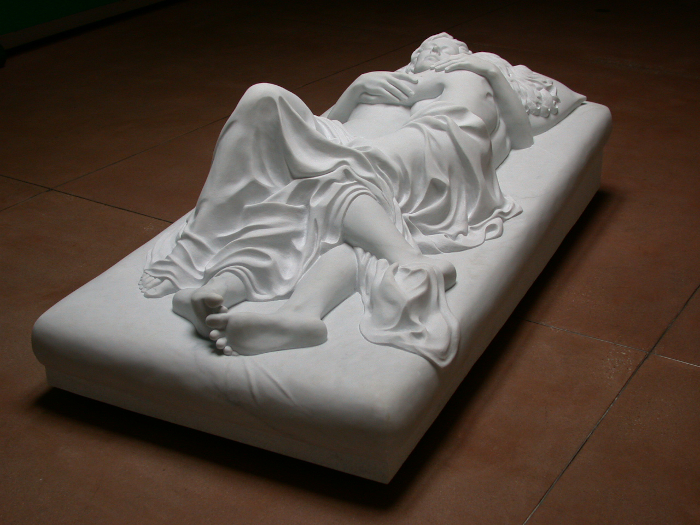 Memorial To A Marriage
Grand Arts, Kansas City, MO
September 6 - October 19, 2002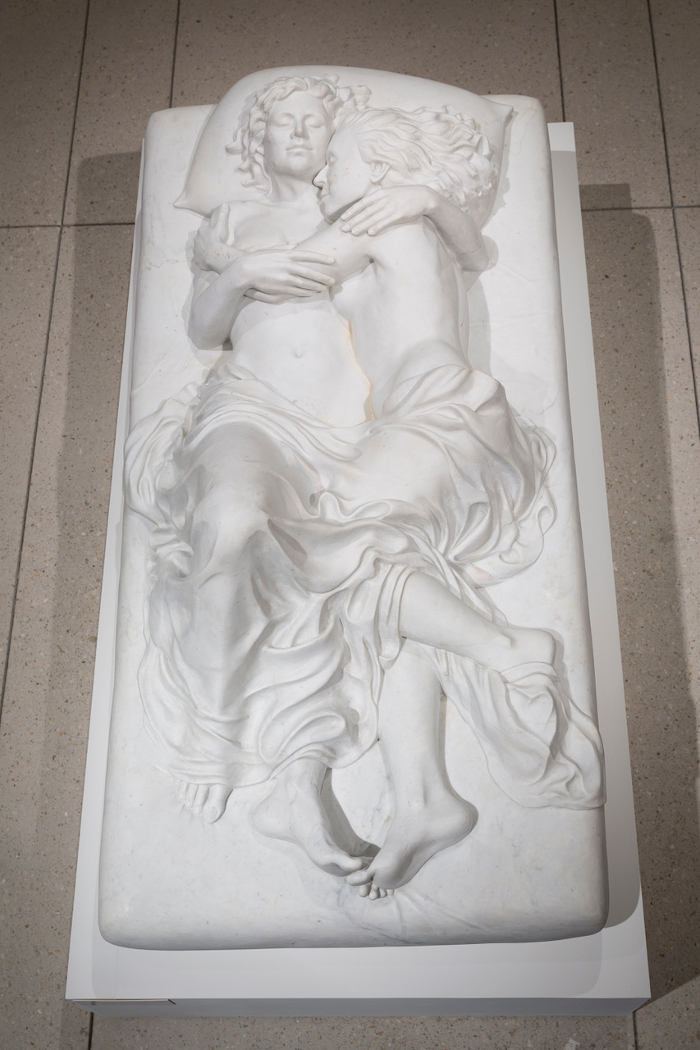 Memorial To A Marriage in Patricia Cronin, Aphrodite and the Lure of Antiquity: Conversations with the Collection
 Tampa Museum of Art, Tampa, FL
 August 16, 2018 - January 6, 2019
Memorial To A Marriage in Recent Acquisitions
Smithsonian National Portrait Gallery, Washington, DC
November 17, 2017 - November 4, 2018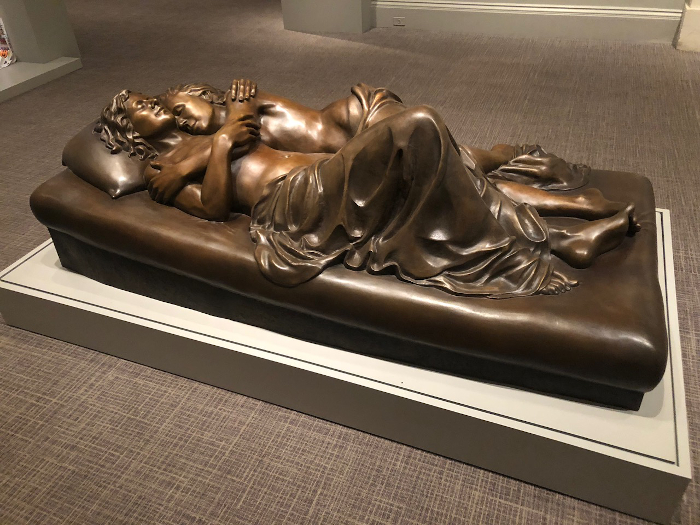 Memorial To A Marriage in Eye to I: Self-Portraits from 1900 to Today from the Permanent Collection
Smithsonian National Portrait Gallery, Washington, DC
November 2, 2018 - August 18, 2019 (then traveled the United States through 2021)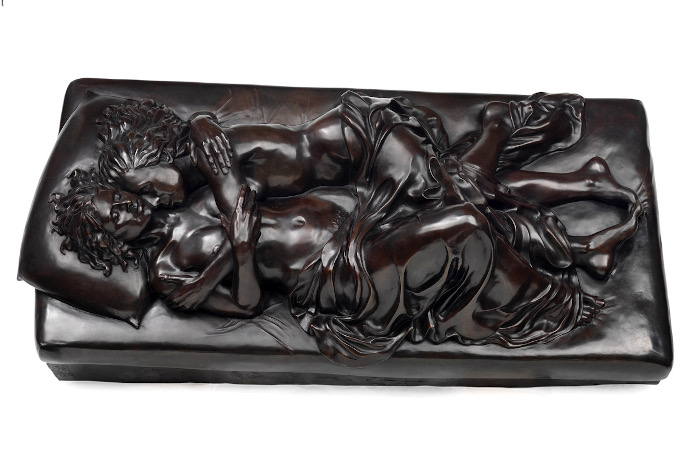 Memorial To A Marriage, bronze, edition of 6, 1/3 to scale size, 2004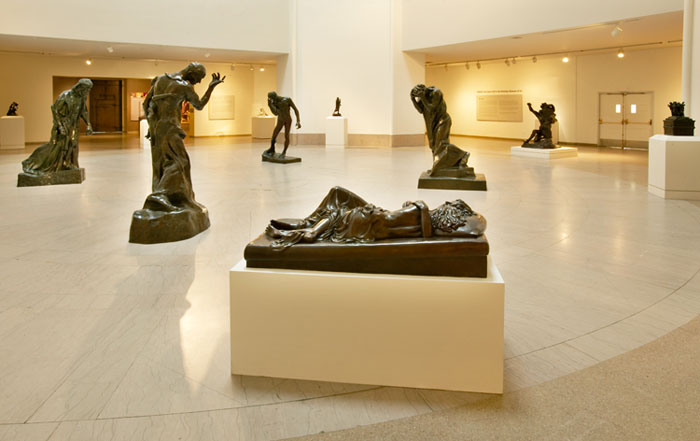 Installation view of bronze with Rodins in Iris & B. Gerald Cantor Gallery, Brooklyn Museum
April 16, 2004 - December 31, 2005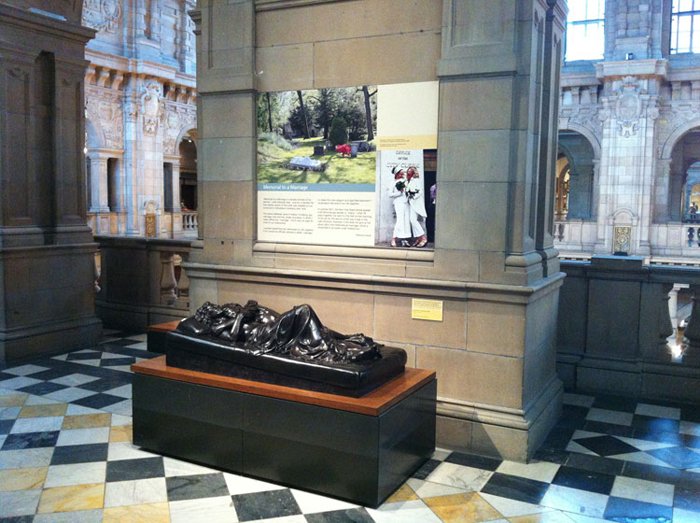 Permanent Collection, Kelvingrove Art Gallery and Museum, Glasgow, Scotland
On view 2012 - Present
Press
---
"The History and Future of the LGBTQ+ VR Museum"
AR Post | June 29, 2022
"Winner New Voices Award LGBTQ+ VR Museum"
Tribeca | June 17, 2022
"I Visited the World's First Virtual LGBTQ Museum"
Vice | June 17, 2022
"Virtual reality LGBTQ+ museum wows art lovers at Tribeca Festival"
CBS NY | June 10, 2022
"Road Trip Close to Home: National LGBTQ+ landmark Woodlawn Cemetery in the Bronx"
News 12 CT | June 9, 2022
"Danish researcher's wild virtual LGBTQ + museum has been nominated for a prestigious award"
Kulturemonitor | May 6, 2022
"Almost 20 Years of Patricia Cronin's Memorial To A Marriage"
After Ellen | October 19, 2021
"How a VR Museum Will Tell LGBTQ+ Stories"
The Information | June 28, 2021
"The Miraculous: New York 58. (Woodlawn Cemetery in the Bronx)"
The Brooklyn Rail | June 2021
"In Conversation with Patricia Cronin"
Lesbians are Miracles | March 11, 2021
"The Importance of Patricia Cronin's Memorial to a Marriage"
Widewalls | February 26, 2021
"The Power of Patricia Cronin's Memorial to a Marriage"
Art UK | February 1, 2021
"Venture Out to See Seven Queer Public Artworks Across NYC"
The Art Doctor | February 11, 2021
"Art For Romantics: Patricia Cronin, Memorial To A Marriage"
Hyperallergic | August 10, 2020
"Everlasting love showcased on Woodlawn Cemetery's 'Stories of Love' trolley tour "
New York Daily News | February 12, 2020
"LGBT Histories at Kelvingrove Art Gallery and Museum"
People Make Glasgow | November 14, 2019
"Botticelli Is Buried at the Feet of His Muse—and 9 Other Unusual Stories Behind Famous Artists' Final Resting Places"
Artnet News | October 31, 2019
"The aesthetics of identity "
ICON Magazine | April 2019
"Dal gender a Black Lives Matter: il Corpo Accademico in mostra all'American Academy in Rome"
Artribune | March 23, 2019
"How Artists See Themselves"
The Wall Street Journal | November 20 2018
"How has the selfie evolved? This new Portrait Gallery exhibition charts its rise, from 1900. "
The Washington Post | November 15 2018
"Sculpting Equality"
SUM | September 11, 2018
"Reader, I Married Him"
Elephant Magazine| July 14 2018
"Artist Patricia Cronin on Memorial To A Marriage"
Smithsonian Magazine | March 8, 2018
" Check out these thought-provoking additions to the National Portrait Gallery "
Smithsonian.com | November 17, 2017
"Grand Arts : Visions that Provoke and Disrupt"
International Sculpture Center| December 7 2016
"Kansas City's Grand Arts Releases Book on 20 Years of Art, Science, and Tech"
The Creators Project | August 27 2016
"Exhuming the Artistic Afterlife from One of NYC's Historic Cemeteries"
Hyperallergic | September 15 2014
"Til Death Do Us Part"
Artnews | September 2014
"Designs that Outlived Their Benefactors"
The New York Times | August 20 2014
"The Tombs of Artists As a Last Statement From The Grave"
Hyperallergic | August 1, 2013
"Love Potions: Art and the Heart"
ARTnews | February 13 2013
"Velvetpark's Official Top 25 Significant Queer Women of 2012"
Velvetpark | December 28 2012
"From Bronx to Eternity"
Hyperallergic | July 3 2012
"Offering a little of everything in art"
The Washington Post | February 23 2012
"From Courbet to the Bronx, The Love That Dare Not Speak Its Names Get Marriage Memorial"
Hyperallergic | October 11 2011
"Til Death Do Us Part"
The Huffington Post | October 4 2011
"Love and Marriage, On Display For Eternity"
Advocate.com | September 21 2011
"Memorial to a Marriage: Artist Patricia Cronin Casts Eternity"
Bomblog | September 19 2011
"Eternal Portraits of a Lesbian Marriage"
Ms. Magazine | September 19 2011
"Artists Patricia Cronin and Deborah Kass to Rest Forever in Bronx Cemetery"
The New York Observer | September 12 2011
"Out Artist Patricia Cronin's New Sculpture"
After Ellen | September 12 2011
"Two Artists Reflect on the Contemporary Memorial"
Public Art Review | Winter 2011
"Seeing Queerly"
Art In America | February 2011
Desperately Seeking Harriet"
Deutsche Bank | August 2007
"Big Brash Borough"
Art In America | September 2004
"An Open Armed Welcome"
The Lost Angeles Times | June 4 2004
"Brave Grave"
Ms. Magazine | Spring 2004
"Patricia Cronin Memorial to a Marriage"
Artforum | December 2003
"Patricia Cronin"
Out Magazine | December 2003
"Forever Yours"
The Village Voice | October 28 2003
"Sleeping Together : A Daring and Icy Duet"
The New York Times | February 23 2003
"Making the Personal Monumental : A Conversation with Patricia Cronin"
Sculpture Magazine | January 2003
"Plot Twist"
ARTnews | January 2003
"Art In Review : Tammy Rea Carland"
The New York Times | December 13 2002
"Patricia Cronin"
The New Yorker | December 2 2002