---

Patricia Cronin, Aphrodite and the Lure of Antiquity: Conversations with the Collection

Tampa Museum of Art
120 Gasparilla Plaza, Tampa, FL
August 16, 2018 - January 6, 2019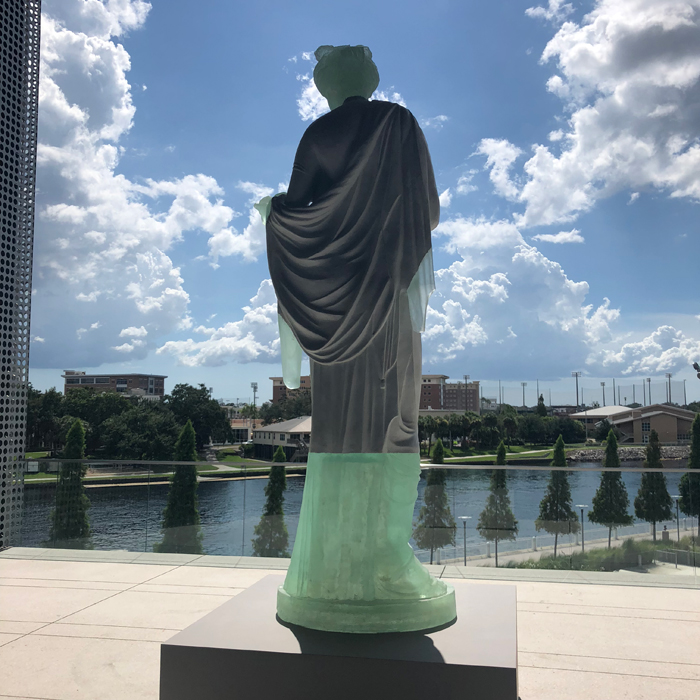 Aphrodite Reimaged, 2018, cold cast marble and resin, 121 X 32.5 X 36 inches

Patricia Cronin (American, b. 1963) is an internationally recognized Brooklyn-based artist uniquely suited to launch the Conversations with the Collection exhibition series. Winner of a Rome Prize in Visual Art in 2006-2007, and past Trustee of the American Academy in Rome, Cronin is deeply interested in the ancient world, which she frequently references in her work. For the first commission in this biennial series, Cronin has created Aphrodite Reimagined, a large outdoor sculpture of Aphrodite inspired by a fragmentary 1st-century AD marble torso of the goddess in the Museum's collection. Cronin's sculpture re-envisions the fragment as a monumental "complete" sculpture with a stone torso and translucent head, arms, and legs. Aphrodite Reimagined invites viewers to reconsider the narrative of an ancient artwork heavily restored after its rediscovery, and acts as a metaphor for shifting certainties about human history. On view inside the galleries are a smaller maquette version of Aphrodite Reimagined, together with the Tampa torso and an ancient head on loan from the Santa Barbara Museum of Art. Although not originally from the same sculpture, the head and torso were joined for many years, probably from soon after their discovery in the late eighteenth century until 1934, when an art dealer detached them from one another for separate sales. Also part of Cronin's Aphrodite Reimagined series are a two-part cast glass sculpture, her first work in this medium, depicting the forms around an absent Aphrodite sculpture, and a new group of multi-layered paintings creating silhouetted ghosts of famous Aphrodite sculptures from museum collections all around the world.


---
Shrine For Girls, Dublin

The LAB Gallery
Foley Street, Dublin 1, Ireland
June 16 – August 20, 2017
Opening: June 16, 2017 (Bloomsday), 6-8pm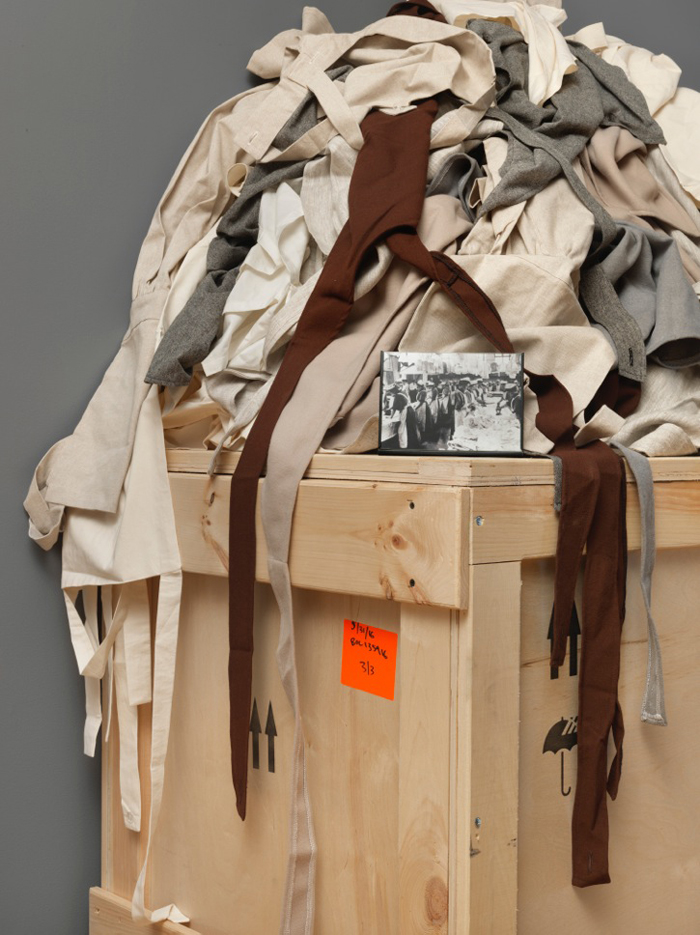 Shrine For Girls (Dublin), aprons, framed photograph and wood crate (Detail)

The LAB Gallery is pleased to present, Shrine For Girls, Dublin, the first solo exhibition in Ireland of New York artist Patricia Croinin. One of the critically acclaimed highlights of the 2015 Venice Biennale, this site-specific installation is a meditation on the global plight of exploited girls and women.
Moving from the sacred altars and architecture of Venice's sixteenth-century Chiesa di San Gallo to the secular urban gallery context of The LAB, in the heart of Joyce's Nighttown and built in the shadow of the last Magdalene Laundry to close in Ireland in 1996, Cronin gathers hundreds of articles of women's and girls' clothing from around the world to represent three specific tragedies.
Brightly-colored saris symbolize two Indian cousins who were gang-raped and lynched in 2014; somber hijabs signify 276 Nigerian Chibok schoolgirls who were kidnapped by the terrorist group Boko Haram in 2014 (109 of which are still missing); and pale aprons symbolize those worn by "fallen women" in forced labour at the Magdalene Asylums and Laundries in Ireland, the United Kingdom, Europe and the United States to act as relics of these young martyrs.
---
Picturing Women: Contemporary Artists Respond to Representations of Women in the Acton Collection

Villa La Pietra NYU Florence
Via Bolognese 120, Florence, Italy
June 26 2017– January 16, 2018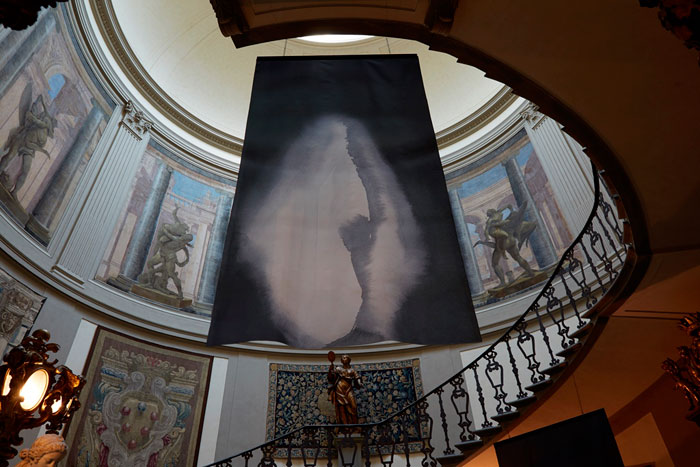 Caption: Ghost #18" (Fantasma #18), 2013,
dye sublimation on silk (sublimazione della tintura su seta) 120 x 60 inches

Using the Acton Collection as both a productive and discursive site, this exhibition examines the depiction of women with a transhistorical perspective, adding into the Villa's collection contemporary responses by artists and poets in an effort to investigate, challenge and expand upon received art historical categories of iconography, patronage, material and function. Regarding Women in the Acton Collection is inaugurated as part of The Season, curated and produced by Ellyn Toscano. The Season was founded in 2005 by Toscano, the Villa's director, from her vision to set contemporary work in conversation with the Villa's expansive grounds and eclectic art collection. Since 2005, The Season has produced collaboration and exploration between international artists of varying mediums.
---
Tack Room
Curated by Eric Shiner
The Armory Show
Platform Section, Piers 92 & 94
March 1 - 5, 2017


Tack Room (exterior view), 1997-98, mixed media, 96"(h) x 116"(l) x 124"(w)


An Incident, Curated by Eric Shiner, Places Thirteen Ambitious Artworks Across Piers 92 & 94
This March, The Armory Show will debut Platform, a new, curated exhibitor section that stages large- scale artworks, installations and site-specific commissions across Piers 92 & 94. The inaugural edition of Platform, entitled An Incident and curated by Eric Shiner, encompasses thirteen artworks by internationally acclaimed artists from a range of generational perspectives.
The Platform section is a realization of The Armory Show's new vision to stage ambitious projects that activate and draw inspiration from the fair's unique industrial venue in Midtown Manhattan. Situated across the fair's 250,000 square feet of exhibition space, Platform offers an opportunity for galleries to showcase artworks that extend beyond the traditional booth context.
Participating artists include: Abel Barroso, Patricia Cronin, Douglas Coupland, Abigail DeVille, Sebastian Errazuriz, Dorian Gaudin, Jun Kaneko, Per Kirkeby, Yayoi Kusama, Iván Navarro, Evan Roth, Fiete Stolte, Lawrence Weiner and Ai Weiwei.
---
Shrine for Girls, New York
The Flag Art Foundation
545 W 25th Street, New York NY
June 9 – July 29, 2016


Originally presented as a Collateral Event for the 56 th Venice Biennale, Shrine for Girls is a poetic sculptural installation and a meditation on the global plight of exploited girls and women who have been victimized, brutally silenced, and written out of history simply because of their gender. After its New York presentation, the project will travel in 2017-18 to India, Ireland, and Nigeria – the locations of the events that inspired the work.
Cronin gathered hundreds of articles of women's and girls' clothing from around the world to represent three specific tragedies: brightly-colored saris symbolize two Indian girls who were kidnapped, gang-raped, and lynched from a tree at the edge of their village; hijabs signify 276 Nigerian Chibok schoolgirls who were kidnapped by the terrorist group Boko Haram in 2014 – over 200 of whom still remain missing; and gray and white aprons & uniforms symbolize those worn by "fallen women," in forced labor at the Magdalene Asylums and Laundries in Ireland, the United Kingdom, Europe, and the U.S.
Moving from the marble alters and sacred architecture of Venice's sixteenth-century Chiesa di San Gallo to the secular gallery context of FLAG, Cronin will present the same three fabric sculptures, here piled on top of their shipping crates to now address human trafficking as well as human rights issues. The installation of clothing, of what the missing bodies would have inhabited, provokes an emotional and visceral response to what is absent. Small photographs of each tragedy accompany the sculptures and provide very real context for the work. A new series of watercolor portraits place a human face on tragedy and amplify the "identifiable victim effect," drawing our attention away from statistics to the magnitude of the individual loss and unrealized human potential. Cronin asks: "What is the role of contemporary art in our 24-hour news cycle society? What can an artist do if they are not a politician, a policy maker or the Bill & Melinda Gates Foundation? Hopefully the artist looks out, keenly observes the world, reflects, and responds in a way that shakes us out of our numbness. We cannot be silent."
---
Shrine for Girls, Venice
Curated by Ludovico Pratesi
Solo Collateral Event of the 56th International Art Exhibition – la Biennale di Venezia
Chiesa Di San Gallo, Venice, Italy
May 6 – November 22, 2015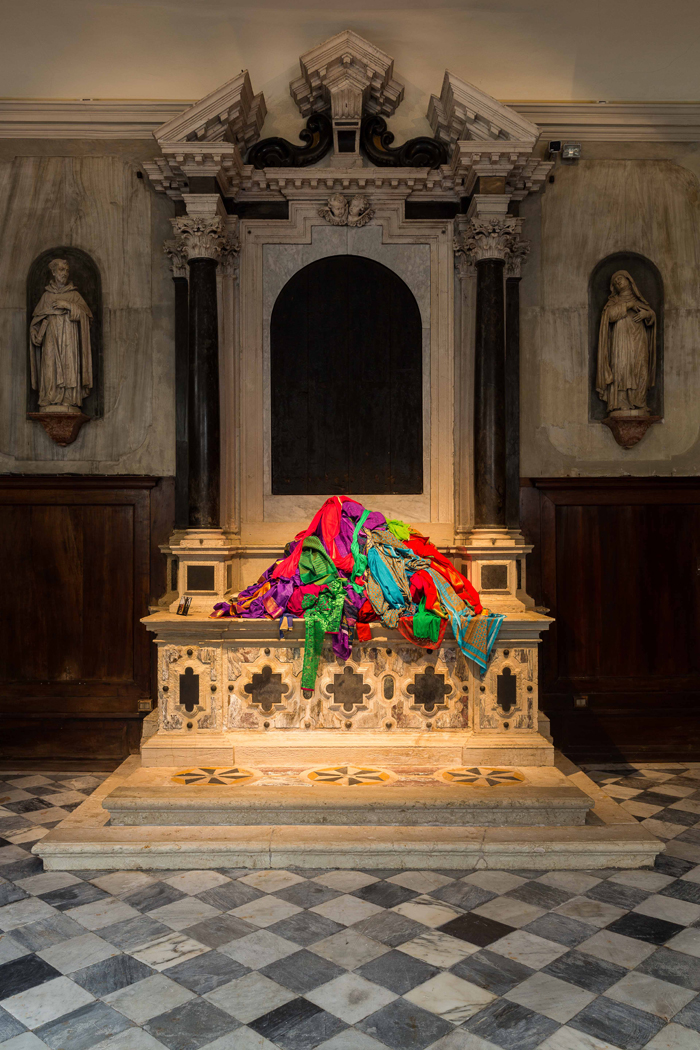 Although the United Nations passed the Universal Declaration of Human Rights in 1948, women and girls around the world continue to be among the most vulnerable members of our global society. Often facing violence, repression, and enforced ignorance, this young female populace is subjected to a horrifying existence on earth.

Inside the exquisite sixteenth-century Church of San Gallo, where Bill Viola showed in 2007, New York-based conceptual artist Patricia Cronin has created a shrine in their honor. For over two decades, critically acclaimed artist Patricia Cronin has created compelling works, many with social justice themes focusing on gender. Here, she has gathered hundreds of girls' clothes from around the world and arranged them on three stone altars to act as relics of these young martyrs. Commemorating their spirit, this dramatic site-specific installation is a meditation on the incalculable loss of unrealized potential and hopelessness in the face of unfathomable human cruelty; juxtaposed against the obligation and mission we have as citizens of the world to combat this prejudice.
---
Come Together : Surviving Sandy

Industry City
220 36th Street, Sunset Park, Brooklyn, ny
October 20 - December 15 2013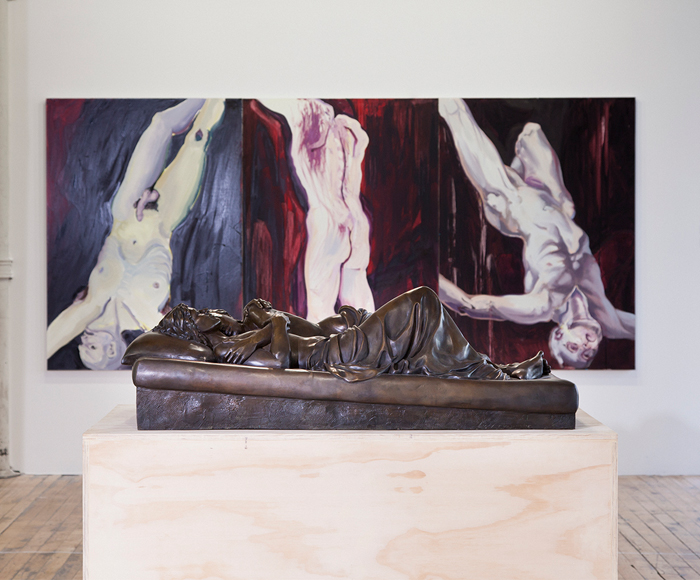 Death in the hands of an artist is almost paradoxical: while as a lived experience it is unknown and unwelcome, as the subject of art it can become a site of wonder, imagination, and inquiry. In other words: death can be generative. In the sense that it inspires the desire to make art, death is creative; in the sense that it elicits response, death is productive. Refuting the very idea that death need be an end, art—with its ability to facilitate any and every mode of interpretation—creates a space for infinite inspiration. Patricia Cronin's practice may be gleefully un-tethered and diverse in terms of formal similarities but each of her works shares in the incorporation of themes of death.
---
"Le Macchine, Gli Dei e I Fantasmi"
(Machines, Gods and Ghosts)

Curated by Ludovico Pratesi
Musei Capitolini, Centrale Montemartini Museo
Rome, Italy
October 9 - November 20 2013
Musei Capitolini, Centrale Montemartini Museo is pleased to announce Le Macchine, Gli Dei e I Fantasmi an exhibition of 6 new works by Rome Prize awarded artist Patricia Cronin, the first contemporary artist to be exhibited in the converted electrical power plant. Cronin's new body of work, created specifically for the unique industrial space, features monumental ghost images inspired by her recent series rediscovering the life and career of the famous American sculptor, Harriet Hosmer and the classical statues, masterpieces from the Capitolini Musei collection, which are permanently on view at the Museum. Interspersed amongst the marble sculptures and industrial archeology, the fantasmi, printed on large-scale translucent silk panels, inject life into the vast Engine Hall, seemingly breathing and pulsing with each passing draft. At once present and absent, the veils offer physical, albeit ephemeral, presence to what is void, reminding us of the fickle, unstable, and fleeting nature of life and history.
---

NYC 1993: Experimental, Jet Set, Trash and No Star
New Museum, New York, NY
February 13 - May 26, 2013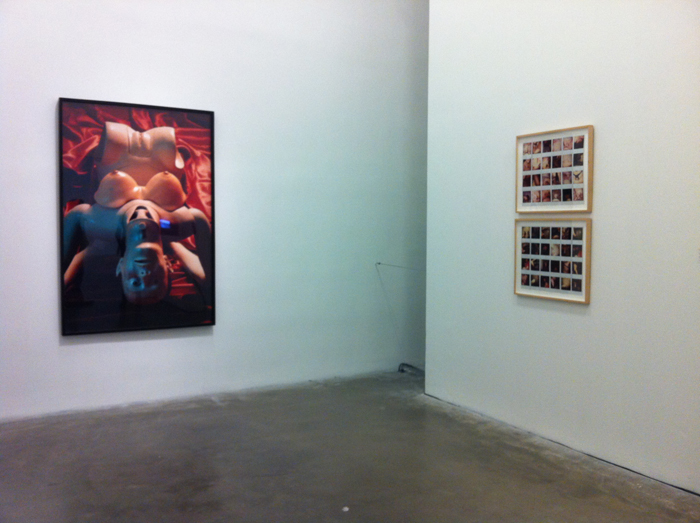 "Girls" and "Boys" were first exhibited in "Coming to Power: 25 Years of Sexually X-plicit Art by Women," an exhibition co-curated by Cronin and fellow artist Ellen Cantor at David Zwirner in 1993. Cronin and Cantor were interested in images that expressed a fuller idea of female sexuality than those dominating culture and society at the time, which mainly consisted of objectified images of women and were often produced by men. The work presented in "Coming to Power" included painting, sculpture, photography, and performance by women of different generations, ethnicities, and sexual orientation, tracing a history of potent sexual art by women for women.

"Girls" and "Boys" capture the sexual act from the perspective of the participants, a point of view from within the erotic space rather than from an objective place of observation. Cronin's Polaroids incorporate transgressive elements such as bondage props as well as images of cultural and political figures such as Madonna and George H. W. Bush. Cronin had also been making erotic watercolors at the time that depicted the artist and her partner, in extreme close-up and larger-than-life scale, in a range of intimate acts, both tender and highly sexual. In contradiction to much of the lesbian pornography in circulation (made by straight men for straight men), Cronin's images give agency to the sexualized female as cultural and visual producer, speaking to larger questions regarding queer, lesbian, or feminist positions within society.

---
Dante: The Way Of All Flesh
Ford Projects, New York, NY
November 8 - December 21, 2012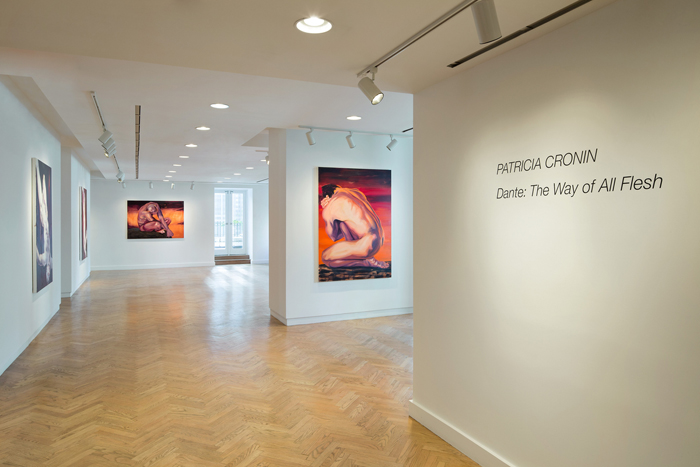 Dante: The Way Of All Flesh is a meditation on the human condition, using Dante Alighieri's Inferno as a point of departure. Comprised of oil paintings and watercolors, Cronin continues Dante's exploration of justice and revenge using her own expressive language. This new cycle of figurative works are representative of the artist's response to our current global circumstances. By focusing on the human form, Cronin reinforces the concept of our shared humanity, albeit from the perspective of a disillusioned present.
The painterly figures that Cronin creates take their visual cues from over seven centuries of artistic interpretations, beginning with 14th century illuminated manuscripts up to Italian fashion magazines, in addition to tracings of the artist's own body and her archive of personal photographs taken throughout Italy. With a deft understanding of her materials, Cronin allows the figures to take shape in natural states and creates surfaces with both bold and meticulous strokes. With an intense palette of reds, oranges, cool blues and purples, the artist depicts the dead and the hell of their own design.
---

Memorial to a Marriage

Permanent Collection
Kelvingrove Art Gallery and Museum, Glasgow, Scotland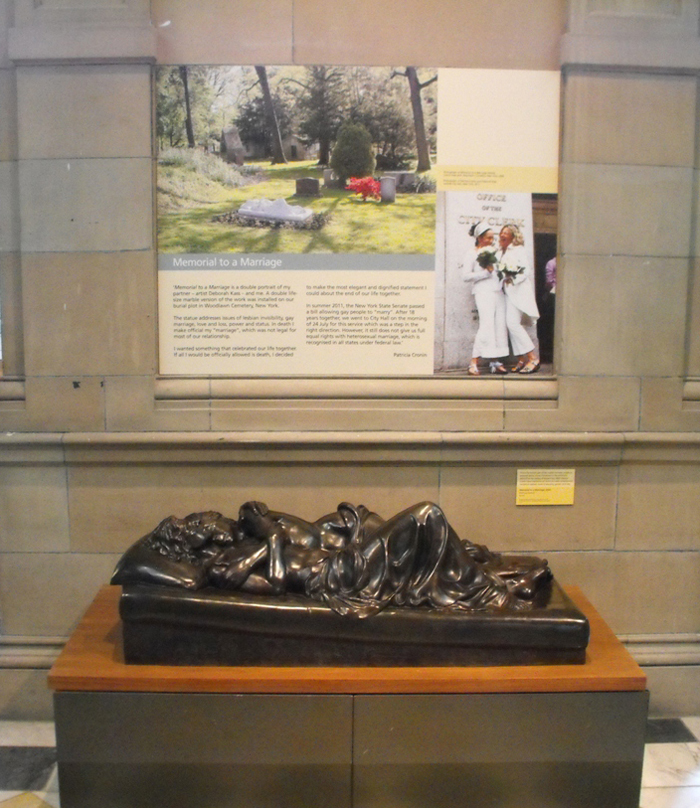 Memorial To A Marriage, Bronze, 2/3rds scale
on permanent view at Kelvingrove Art Gallery and Museum, Glasgow, Scotland.
---

Patricia Cronin : All Is Not Lost

Newcomb Art Gallery, Tulane University, New Orleans, LA
April 25 - June 30 2012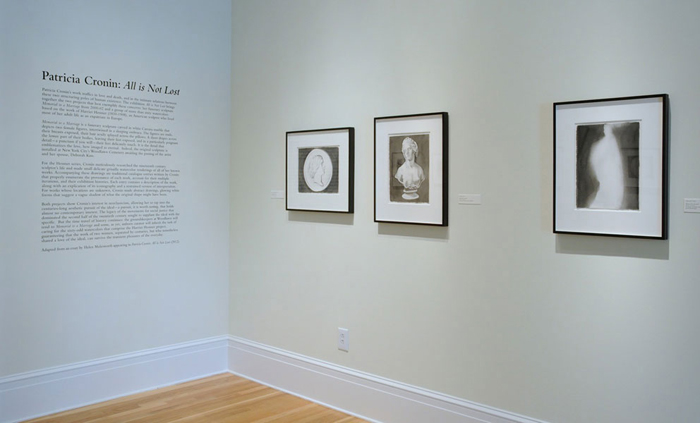 Patricia Cronin's work traffics in love and death, and in the intimate relations between these two structuring poles of human existence. The exhibition All is Not Lost brings together the two projects that best exemplify these concerns: her funerary sculpture Memorial to a Marriage from 2000-02 and a group of more than sixty watercolors based on the work of Harriet Hosmer (1830-1908), an American sculptor who lived most of her adult life as an expatriate in Europe.
Memorial to a Marriage is a funerary sculpture carved in white Carrara marble that depicts two female figures, intertwined in a sleeping embrace. The figures are nude, their breasts exposed, their hair sexily splayed across the pillows. A sheet drapes across the lower part of their bodies, leaving their feet exposed, and in a particularly poignant detail – a punctum if you will – their feet delicately touch. It is the detail that emblematizes the love, here imaged as eternal. Indeed, the original sculpture is installed at the New York City's Woodlawn Cemetery awaiting the passing of the artist and her spouse, Deborah Kass.
For the Hosmer series, Cronin meticulously researched the nineteenth century sculptor's life and made small delicate grisaille watercolor renderings of all of her known works. Accompanying these drawings are traditional catalogue entries written by Cronin that properly enumerate the provenance of each work, account for their multiple iterations, and their exhibition histories. Each entry contains a description of the work, along with an explication of its iconography and a restrained version of interpretation. For works whose locations are unknown, Cronin made abstract drawings, glowing white forms that suggest a vague shadow of what the original shape might have been.
Both projects show Cronin's interest in neoclassicism, allowing her to tap into the centuries-long aesthetic pursuit of the ideal – a pursuit, it is worth noting, that holds almost no contemporary interest. The legacy of the movements for social justice that dominated the second half of the twentieth century sought to supplant the ideal with the specific. But the time travel of history continues: the groundskeepers at Woodlawn will tend to Memorial to a Marriage and some, as yet, unborn curator will inherit the task of caring for the sixty-odd watercolors that comprise the Harriet Hosmer project, guaranteeing that the work of the two women, separated by centuries, but who nonetheless shared a love of the ideal, can survive the transient pleasures of the everyday.
Adapted from an essay by Helen Molesworth appearing in Patricia Cronin: All is Not Lost (2012)
---

Harriet Hosmer: Lost and Found
Brooklyn Museum, Brooklyn NY
June 5, 2009 - January 24, 2010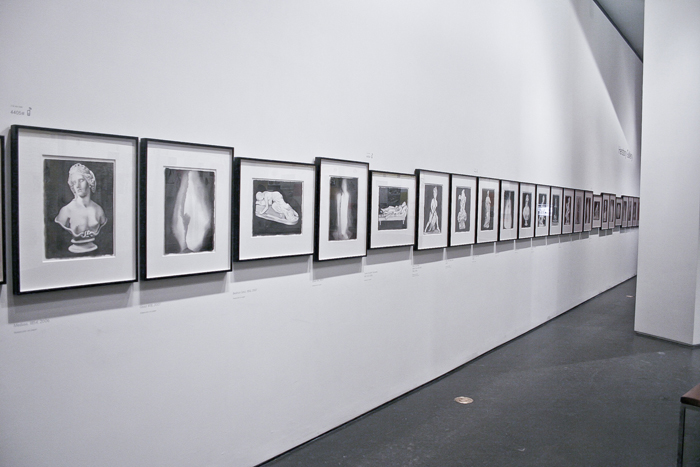 In this solo exhibition in the Elizabeth A. Sackler Center for Feminist Art, Brooklyn-based artist Patricia Cronin presents watercolors illustrating the work of the nineteenth-century American expatriate sculptor Harriet Hosmer.

Hosmer defied expected roles for female artists of her day and yet achieved an uncommon level of success. However, today she is remembered only by a relatively small group of specialists. Inspired by the dearth of thorough scholarship on Hosmer, Cronin has compiled the definitive Hosmer catalogue raisonné (the publication that comprehensively lists an artist's complete works). In the book, each of Hosmer's works is represented by a watercolor painted by Cronin. A selection of these watercolors comprises the exhibition at the Brooklyn Museum.
Hosmer's neoclassical works depict such historical, mythological, and literary figures as Zenobia, Medusa, and Puck. Cronin's watercolors capture Hosmer's noble and playful subjects, as well as the luminosity of the marble carvings. In her research, Cronin has found written references to a handful of Hosmer sculptures that do not appear to have ever been photographed. To represent these pieces, Cronin has made watercolors of what she calls "ghosts"—vague, formless, and ethereal images of sculptures that exist undocumented somewhere in the world, but are lost to art history.
---

Patricia Cronin : Memorial to a Marriage Bronze

The Fields Sculpture Park Annual Summer Exhibition
Art Omi International Arts Center, Ghent, NY
Summer 2011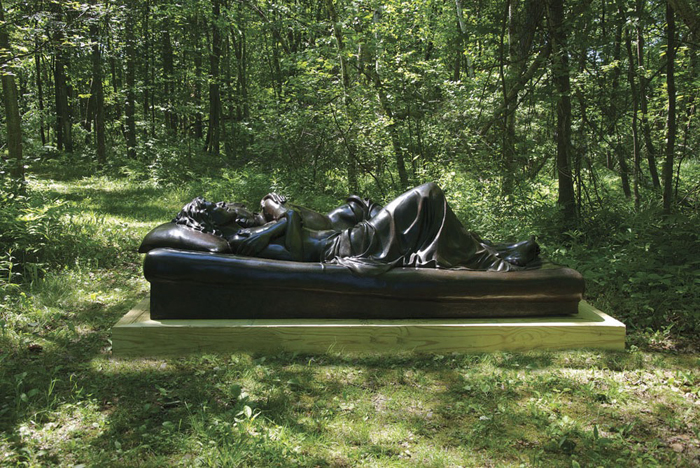 Photograph by Ross Willows