PBS World's Greatest Cemeteries Series
Woodlawn Cemetery, Bronx, NY
Season 2, Episode 206, 26 min 46 sec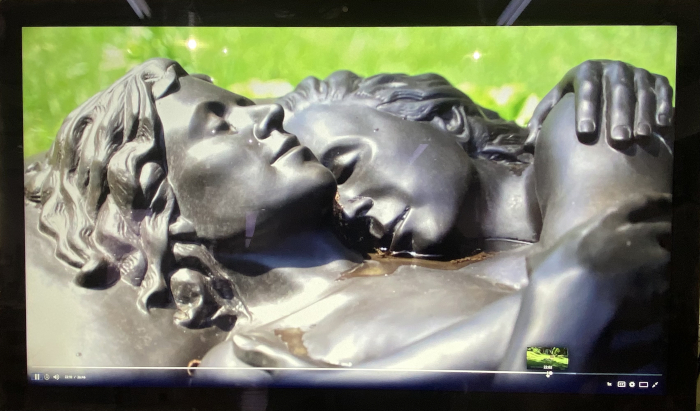 Join Host/Producer Roberto Mighty and tour a National Historic Landmark. New York's Woodlawn Cemetery is the final resting place of legends — Duke Ellington, Herman Melville, Bat Masterson, Celia Cruz, Dorothy Parker, Madame C. J. Walker, Miles Davis, Jokichi Takamine and Irving Berlin. Gilded age monuments, towering mausoleums, modern sculptures and exquisite landscaping grace this tree-lined urban oasis.

---
Memorial To A Marriage with Patricia Cronin and Eric Shiner
Arts Students League, New York, NY
November 3, 2022

Artist Patricia Cronin sits in conversation with curator Eric Shiner about her seminal work "Memorial To A Marriage." ‍

Memorial To A Marriage (2002) is the first and only Marriage Equality monument in the world. Cronin created a three-ton Carrara marble, mortuary sculpture of herself and (now) wife, artist Deborah Kass, recumbent in an entwined embrace on a bed, when same sex marriage was illegal in the United States. Employing the American Neoclassical sculptural form to address a federal failure of prohibiting same sex couples to legally wed, she purchased their burial plot in Woodlawn Cemetery, Bronx, NY a National Historic Landmark, and permanently installed the statue on their future final resting place. By acquiring her own land, she also addressed the scarcity of real women (as opposed to allegorical female forms) honored in public monuments.

This conversation was part of the "We Fancy" exhibition at the Art Students League of New York on view Oct. 27 — Nov. 27, 2022.

---
Virtual reality LGBTQ+ museum wows art lovers at Tribeca Festival
CBS NY
June 10, 2022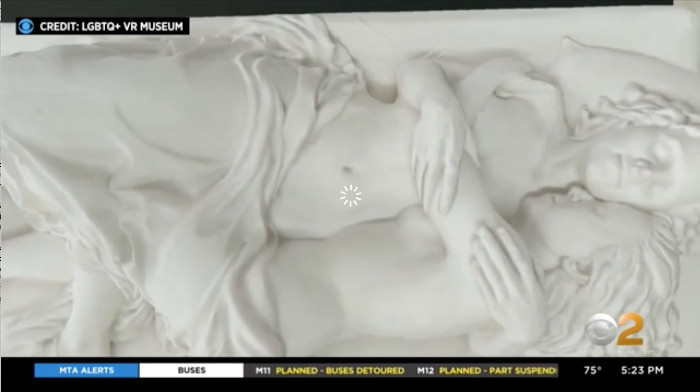 NEW YORK - A groundbreaking exhibition at this year's Tribeca Festival is dedicated to the LGBTQ community by collecting and preserving personal histories.

A larger-than-life sculpture portrays the artist who sculpted it, Patricia Cronin, and her wife, artist Deborah Kass. It was placed at Woodlawn Cemetery 20 years ago.

"So I depicted Deborah and myself with dignity," Cronin said. "So it's three tons of marble of the two of us."

Full-size replicas of the work, titled "Memorial to Marriage," are in museums around the world, but now it's also in a virtual reality one.

"It makes me so proud to have the first marriage equality monument in the first VR LGBT museum," Cronin said.

---
Eye to I: Patricia Cronin Artist Interview
"Eye To I: Self Portraits From 1900 To Today" Exhibition
National Portrait Gallery, Smithsonian Institution, Washington, D.C.
November 10, 2018

Patricia Cronin discusses her sculpture, Memorial to a Marriage (modeled 2002, cast 2013). The work was featured in the exhibition, Eye to I: Self Portraits from 1900 to Today. The exhibition was featured in the National Portrait Gallery from Nov. 2, 2018 to Aug. 18. 2019

---
Patricia Cronin
Design Matters Podcast
Masters in Branding, School of Visual Art, New York, NY
October 14, 2018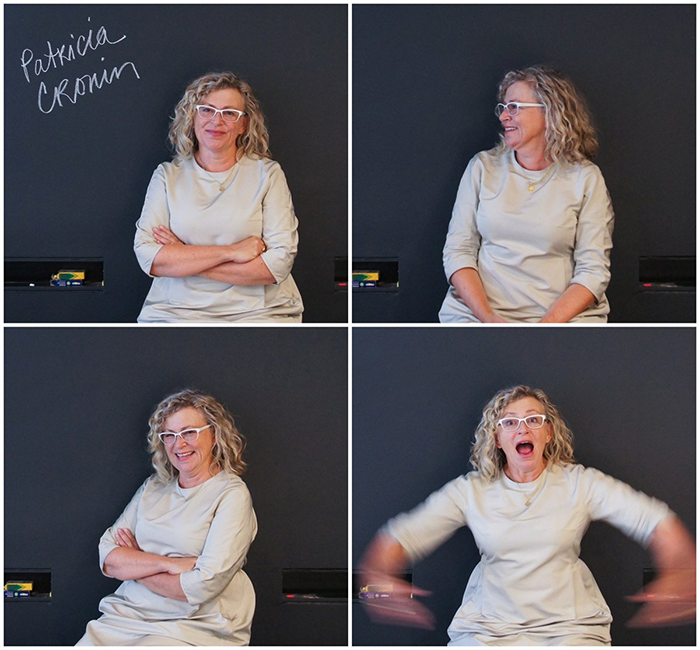 Debbie Millman talks to Patricia Cronin about Art and Politics.

---
Visual Assault:
Patricia Cronin, Lorna Simpson and Zoe Buckman
BBC Radio 4
October 11, 2018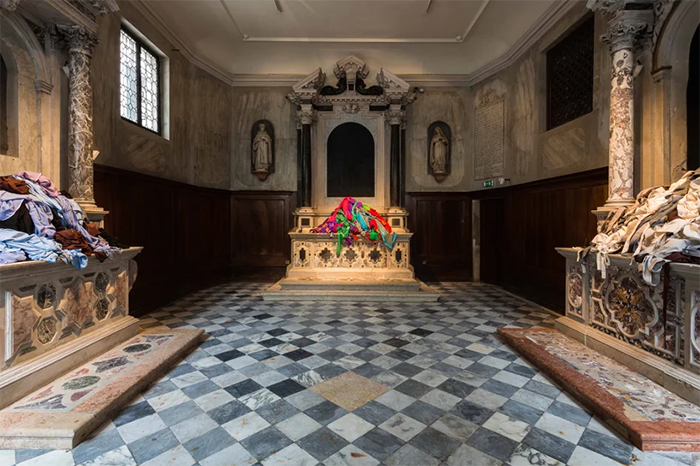 Artist and photographer Zoe Buckman sets off to find out how other female artists around the world are reacting and responding to sexual discrimination and violence.

---
Shrine for Girls at the LAB, Dublin
Art in Ireland TV
The Lab Gallery, Dublin, Ireland
August 16, 2017

The LAB Gallery is pleased to present, Shrine For Girls, Dublin, the first solo exhibition in Ireland of New York artist Patricia Croinin. One of the critically acclaimed highlights of the 2015 Venice Biennale, this site-specific installation is a meditation on the global plight of exploited girls and women.

---
Patricia Cronin at The LAB Gallery
The LAB Gallery, Dublin City Council
Dublin, Ireland
June 17, 2017

Patricia Cronin's work examines issues of gender, sexuality and social justice and has been exhibited widely in the U.S. and internationally. Shrine For Girls, Venice, curated by Ludovico Pratesi, premiered as a solo Collateral Event of the 56th Venice Biennale then traveled to The FLAG Art Foundation, New York, NY. Other solo exhibitions were presented at the Capitoline Museum's Centrale Montemartini Museum, and the American Academy in Rome Art Gallery, both in Rome, Italy; Newcomb Art Museum, Tulane University, New Orleans, LA; Brooklyn Museum, Brooklyn, NY and her acclaimed sculpture "Memorial To A Marriage" is permanently installed in Woodlawn Cemetery, Bronx, NY. Cronin is the recipient of numerous awards including: the Rome Prize from the American Academy in Rome, Louis Comfort Tiffany Foundation Grant, two Pollock-Krasner Foundation Grants and a Civitella Ranieri Fellowship. Her works are in numerous museum collections, including the National Gallery of Art and Smithsonian National Portrait Gallery, both in Washington, DC, Perez Art Museum Miami, FL and Gallery of Modern Art and Kelvingrove Museum, both in Glasgow, Scotland. She is the author of Harriet Hosmer: Lost and Found, A Catalogue Raisonné and The Zenobia Scandal: A Meditation on Male Jealousy and is Professor of Art at Brooklyn College of The City University of New York.

---
Patricia Cronin: Social Justice and Aesthetic Responsibilities
Picturing Women: Constructions of Gender in the Acton Collection and Contemporary Society Series
New York University, Villa La Pietra, Florence, Italy
2017
---
Patricia Cronin on Making Art History
Fresh Art International Podcast
The Armory Show, New York, NY
April 13, 2017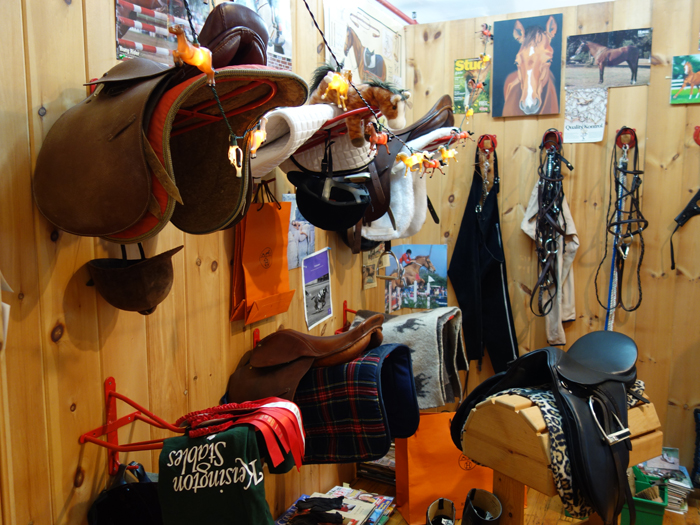 This is one of the twelve large-scale projects that Eric Shiner, vice president of contemporary art at Sotheby's curated for the fair's new Platform section. Picture the intensity of immersive multi-media room-sized installations by male artists such as Jason Rhodes or Paul McCarthy…but with a female perspective. This free-standing wood replica of an essential space within a horse barn is filled with real-life evidence of the artist's personal passion for horses. Her own horse paintings and small cast bronze horse sculptures are embedded in the display of sexually suggestive leather saddles, bridles, whips and suede chaps, images of horse-crazy girls, pages from Playboy and Stud magazine's "Breed of the Month" centerfolds. Cronin's reprise of the immersive environment she exhibited 20 years ago sparks this conversation about feminist issues, politics, and the artist's resolve to represent untold stories about women.

---
A Conversation on Tack, Whack and Quack
Armory Live Series
The Armory Show, New York, NY
March 4, 2017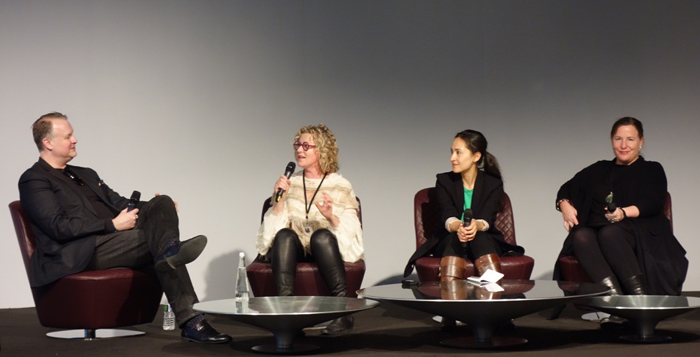 Moderated by Eric Shiner Senior Vice President of Contemporary Art, Sotheby's, this segment features a panel discussion with participants Patricia Cronin, Artist, New York; Maura Reilly, Executive Director, National Academy, New York; Shahzia Sikander, Artist, New York.

---
Patricia Cronin: A Silent Protest Can Be Quite Powerful
Studio International (UK) Interview
Venice Biennale 2015, Venice, Italy
May 8, 2015
---
Patricia Cronin: All Is Not Lost
Lecture and Conversation with V&A Sculpture Curator Amy Mechowski
Victoria And Albert Museum, London, England
October 16, 2012

New York conceptual artist Patricia Cronin talks about her work, which critiques issues of sexuality, gender and class through the reinvention of traditional art forms. A discussion and Q&A session led by Amy Mechowski, Assistant Curator of Sculpture, focuses on the ways in which Patricia's work relates to objects in the V&A collections.

---