Patricia Cronin, Aphrodite and the Lure of Antiquity: Conversations with the Collection

Tampa Museum of Art, Tampa, FL
August 16, 2018 - January 6, 2019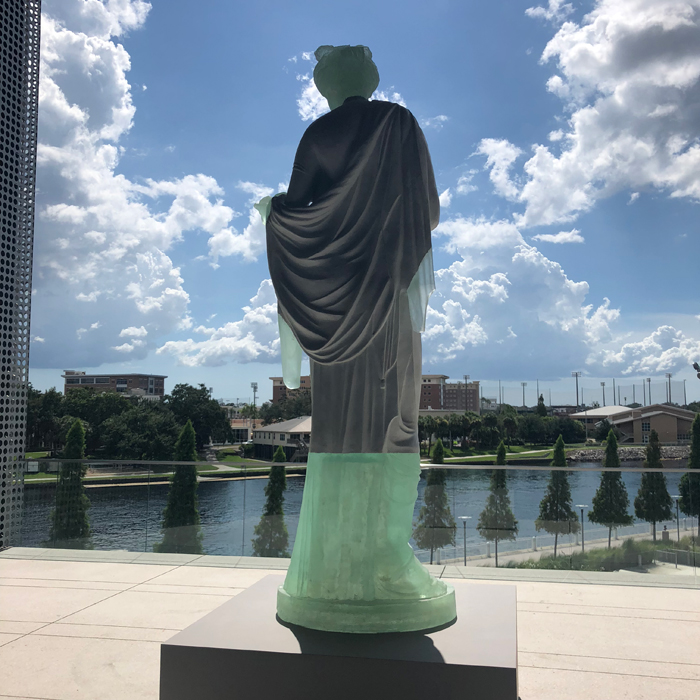 Patricia Cronin (American, b. 1963) is an internationally recognized Brooklyn-based artist uniquely suited to launch the Conversations with the Collection exhibition series. Winner of a Rome Prize in Visual Art in 2006-2007, and past Trustee of the American Academy in Rome, Cronin is deeply interested in the ancient world, which she frequently references in her work. For the first commission in this biennial series, Cronin has created Aphrodite Reimagined, a large outdoor sculpture of Aphrodite inspired by a fragmentary 1st-century AD marble torso of the goddess in the Museum's collection. Cronin's sculpture re-envisions the fragment as a monumental "complete" sculpture with a stone torso and translucent head, arms, and legs. Aphrodite Reimagined invites viewers to reconsider the narrative of an ancient artwork heavily restored after its rediscovery, and acts as a metaphor for shifting certainties about human history. On view inside the galleries are a smaller maquette version of Aphrodite Reimagined, together with the Tampa torso and an ancient head on loan from the Santa Barbara Museum of Art. Although not originally from the same sculpture, the head and torso were joined for many years, probably from soon after their discovery in the late eighteenth century until 1934, when an art dealer detached them from one another for separate sales. Also part of Cronin's Aphrodite Reimagined series are a two-part cast glass sculpture, her first work in this medium, depicting the forms around an absent Aphrodite sculpture, and a new group of multi-layered paintings creating silhouetted ghosts of famous Aphrodite sculptures from museum collections all around the world.
---
Shrine for Girls

Solo Collateral Event of the 56th International Art Exhibition – la Biennale di Venezia
Chiesa Di San Gallo, Venice, Italy
Curated by Ludovico Pratesi
May 6 - November 22 2015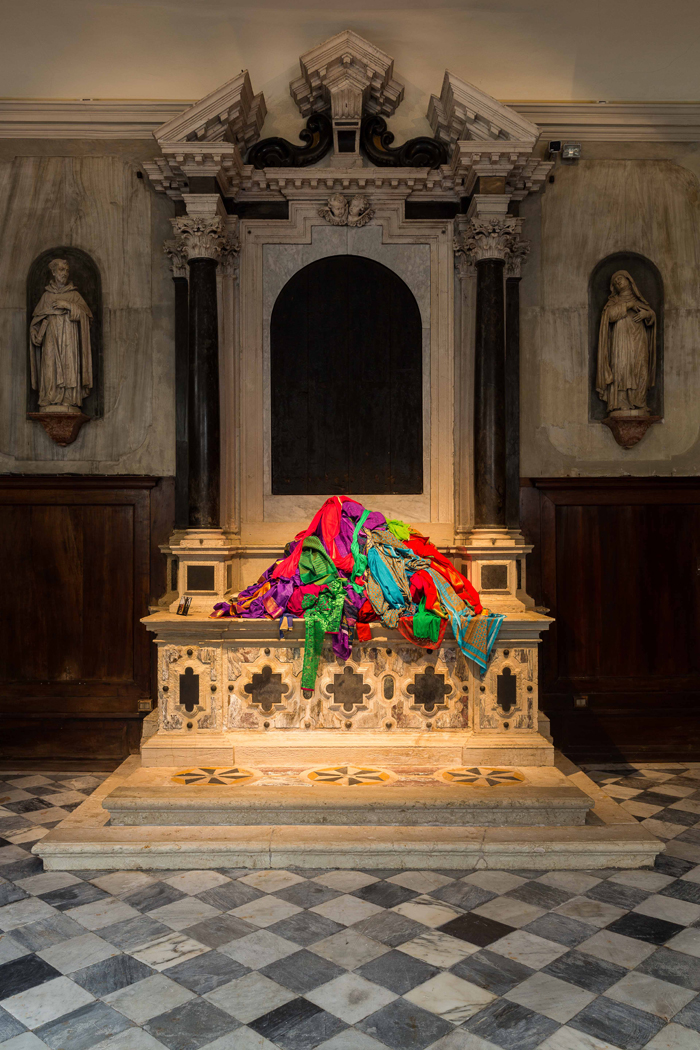 Venice (2015)
Although the United Nations passed the Universal Declaration of Human Rights in 1948, women and girls around the world continue to be among the most vulnerable members of our global society. Often facing violence, repression, and enforced ignorance, this young female populace is subjected to a horrifying existence on earth.
In 2014, New York based artist Patricia Cronin was invited by Italian Contemporary curator, Ludovico Pratesi, to create an exhibition for the 56th Venice Biennale. Two recent violent acts of kidnapping, rape and murder in Nigeria and India that shocked the world, coalesced in Cronin's mind at the same time she first learned about the tens of thousands of girls and women incarcerated in Catholic workhouses, called Magdalene Laundries in Ireland from the major motion film Philomena. With the world-wide pandemic of violence against women seared in her brain, Cronin created a shrine in their honor.
Shrine For Girls, Cronin's meditation on the global plight of exploited women and girls, was selected by 2015 Venice Biennale Commissioner, Okwui Enwezor and the Diocese of Venice, to be an Official Solo Collateral exhibition of the 56th Venice Biennale, Venice, Italy.
Inside the sixteenth-century Church of San Gallo, Cronin gathered hundreds of girls' clothes from around the world and arranged them on three stone altars to act as relics of these young martyrs. Commemorating their spirit, this dramatic site-specific installation is a meditation on the incalculable loss of unrealized potential and hopelessness in the face of unfathomable human cruelty; juxtaposed against the obligation and mission we have as citizens of the world to combat this prejudice.
The high altar exhibits brightly colored saris worn by girls in India, referencing two teenage cousins who were recently gang raped, lynched and murdered. The left altar displays hijabs representing the 276 schoolgirls kidnapped by terrorist group Boko Haram in Chibok, Nigeria. And the third altar presents a pile of aprons & uniforms symbolizing those worn by girls and women in the Magdalene Asylums and Laundries, forced labor institutions in Ireland, the United Kingdom, Europe and America as recently as 1996.
Shrines, part of every major religion's practice, provide a space for contemplation, petition and rituals of remembrance. In this exhibition, dramatically illuminated mounds of their clothing are elevated to the status of art to bring awareness to this urgent crisis, while providing a space to reflect and, hopefully, inspire viewers into action. One framed photograph of each of these three tragic events accompanies this installation, which hopes to propose a new and reflective dialogue between gender, memory and justice.
The installation was located at the Chiesa di San Gallo, a historic-site destination near the heart of Venetian culture and society, Piazza San Marco. Built in 1581 as an oratory for the Orseolo family hospice, it was enlarged to its present form in 1703. Long deconsecrated, this church – the smallest in the city of Venice, features elaborate stone altars, Corinthian columns, wood panel walls and a checkerboard-patterned marble floor.
Catalogue, Press and Publications
A catalogue with essays by Ludovico Pratesi, Brooklyn Rail Publisher Phong Bui and Art Historian Maura Reilly, Ph.D., (Milano: Silvana Editoriale, 2015) accompanies the exhibition. The exhibition was resoundingly well received by critics, curators, scholars, collectors and the international press, including over 75 articles & features, including The Financial Times, The New York Times, The Indian Express, The Spectator, The Independent, La Repubblica, and The Irish Times, among many others. As an example of the critical response to Shrine For Girls, Marilyn Stokstad and Michael Cothren's Art History (London: Pearson), the most widely read Art History textbook in the English language, features Shrine For Girls as the final work of art in the final chapter "The International Scene Since 1950."
International Tour (2016 -2022)
After the Venice presentation, Shrine For Girls began an international tour including exhibitions at The FLAG Art Foundation, New York, United States (2016), The LAB Gallery, Dublin, Ireland (2017), and Museum Catherijne Convent, Utrecht, The Netherlands (2021-2022). Moving from the marble altars and sacred architecture to secular gallery and museums contexts, Cronin presents the same three fabric sculptures, piled on top of their shipping crates as a metaphor about human trafficking. The work courses within the architecture of the powerful providing a stark contrast with these subjects, the powerless.
Paintings
Also included in these exhibitions is a series of oil paintings and watercolor portraits of some of the victims. By placing a human face on tragedy Cronin amplifies the "identifiable victim effect," drawing our attention away from statistics to the magnitude of the individual loss and unrealized human potential.
---
Dante: The Way Of All Flesh

Ford Projects, New York, NY
November 8 - December 21, 2012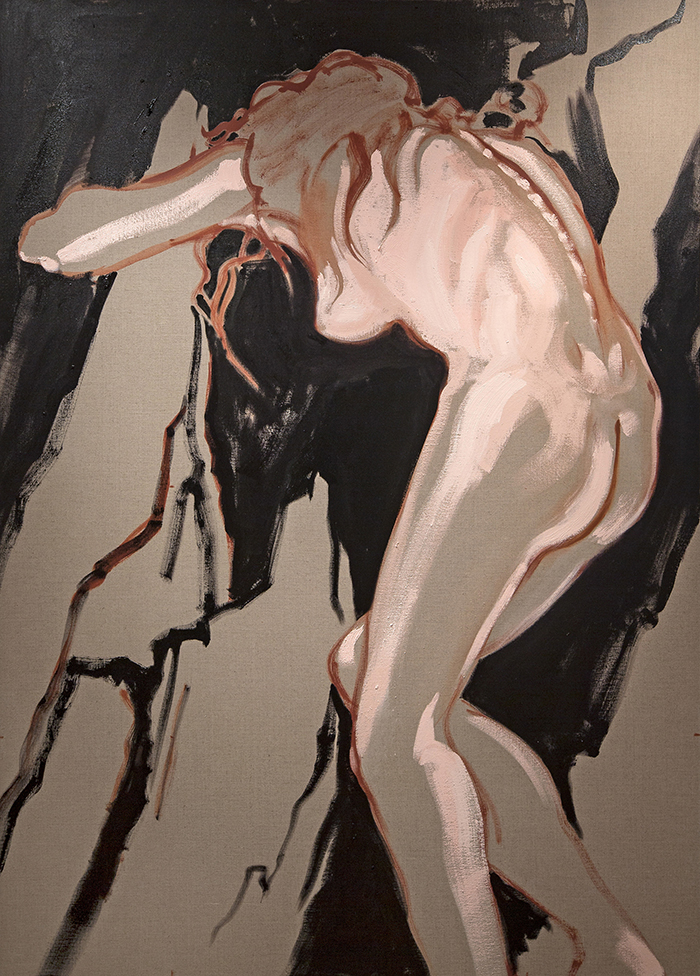 Dante: The Way Of All Flesh is a meditation on the human condition, using Dante Alighieri's Inferno as a point of departure. Comprised of oil paintings and watercolors, Cronin continues Dante's exploration of justice and revenge using her own expressive language. This new cycle of figurative works are representative of the artist's response to our current global circumstances. By focusing on the human form, Cronin reinforces the concept of our shared humanity, albeit from the perspective of a disillusioned present.

The painterly figures that Cronin creates take their visual cues from over seven centuries of artistic interpretations, beginning with 14th century illuminated manuscripts up to Italian fashion magazines, in addition to tracings of the artist's own body and her archive of personal photographs taken throughout Italy. With a deft understanding of her materials, Cronin allows the figures to take shape in natural states and creates surfaces with both bold and meticulous strokes. With an intense palette of reds, oranges, cool blues and purples, the artist depicts the dead and the hell of their own design.
---
Harriet Hosmer: Lost and Found

Brooklyn Museum, Brooklyn NY
June 5, 2009 - January 24, 2010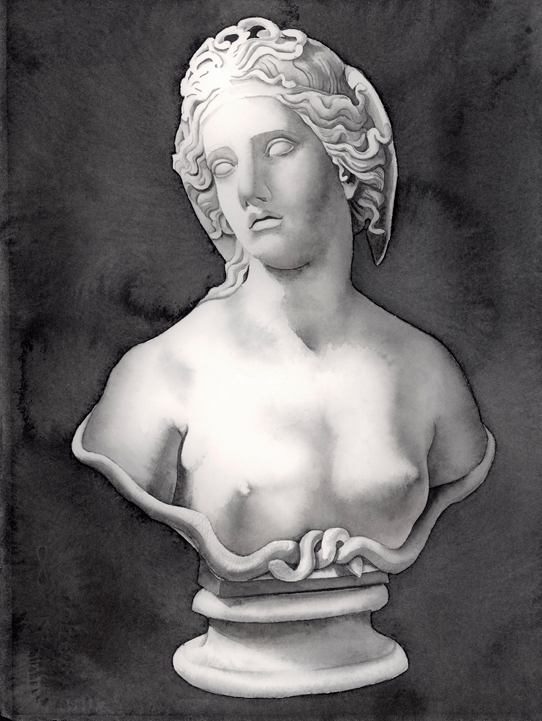 In this solo exhibition in the Elizabeth A. Sackler Center for Feminist Art, Brooklyn-based artist Patricia Cronin presents watercolors illustrating the work of the nineteenth-century American expatriate sculptor Harriet Hosmer.

Hosmer defied expected roles for female artists of her day and yet achieved an uncommon level of success. However, today she is remembered only by a relatively small group of specialists. Inspired by the dearth of thorough scholarship on Hosmer, Cronin has compiled the definitive Hosmer catalogue raisonné (the publication that comprehensively lists an artist's complete works). In the book, each of Hosmer's works is represented by a watercolor painted by Cronin. A selection of these watercolors comprises the exhibition at the Brooklyn Museum.

Hosmer's neoclassical works depict such historical, mythological, and literary figures as Zenobia, Medusa, and Puck. Cronin's watercolors capture Hosmer's noble and playful subjects, as well as the luminosity of the marble carvings. In her research, Cronin has found written references to a handful of Hosmer sculptures that do not appear to have ever been photographed. To represent these pieces, Cronin has made watercolors of what she calls "ghosts"—vague, formless, and ethereal images of sculptures that exist undocumented somewhere in the world, but are lost to art history.
---
Memorial To A Marriage

Woodlawn Cemetery, Bronx NY
November 3, 2002 - Eternity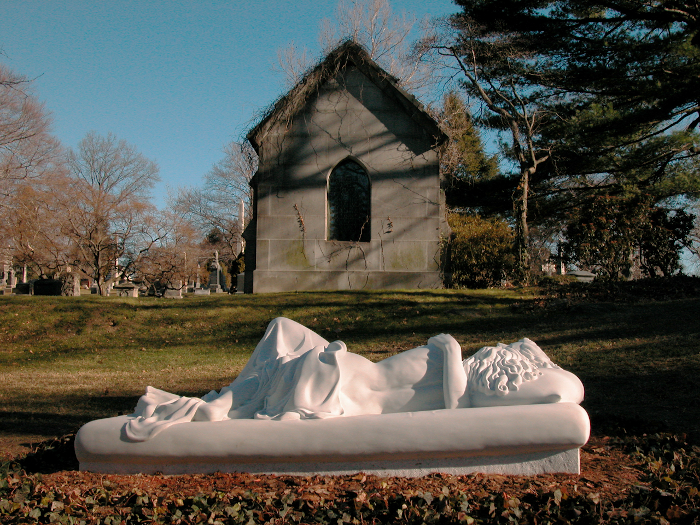 Patricia Cronin created "Memorial To A Marriage" (2002) to address two urgent issues near to her heart, the dearth of specific women being honored in public sculpture and the prohibition of same sex marriage. This over life-size Carrara marble statue is the first and only Marriage Equality monument in the world.
Designed as mortuary sculpture of Cronin and her (now) wife, artist Deborah Kass, recumbent in an entwined embrace on a bed, Cronin sculpted this when gay marriage was illegal in the United States. To simulate a few of the 1200 rights heterosexual marriage affords, same-sex couples would pay for legal documents about the end of their lives, such as wills, health care proxies and powers of attorney documents. She employed the American Neoclassical sculpture form to address a federal failure of prohibiting same sex couples to wed. The challenge of this work was to strike a balance between a high level of formal execution and pointed political protest.
Cronin purchased their burial plot in Woodlawn Cemetery, Bronx, NY, a National Historic Landmark designed as America's Père Lachaise cemetery, and permanently installed the marble sculpture on their future final resting place. By buying her own land, Cronin also addressed the scarcity of real women (as opposed to allegorical female forms) honored in public monuments.
Although the Supreme Court struck down the Defense of Marriage Act in 2013, making the United States the 29th country in the world, out of 195 countries, legally recognizing same sex marriage, homosexuality remains illegal and punishable up to death in 27 countries and is still an urgent international human rights issue.
Critical acclaim for this iconic work has been published in numerous features and reviews in The New York Times, The Washington Post, The New Yorker, Artforum (Top 10 show 2003), Art in America, Art News, Hyperallergic, The Advocate, Ms. Magazine, The Los Angeles Times, Out Magazine, Sculpture Magazine, among others.
Memorial To A Marriage has been included in over 50 exhibitions in the U.S. and Europe, including the American Academy in Rome, Italy; Brooklyn Museum, Brooklyn; Gallery of Modern Art, Glasgow, Scotland; The FLAG Art Foundation, New York; Tampa Museum of Art, Tampa; and the Newcomb Art Museum, New Orleans; among others.
Bronze versions are in the permanent collection of Smithsonian National Portrait Gallery, Washington, DC, The Fuhrman Family Foundation, New York, NY, Perez Art Museum Miami, Miami, and Kelvingrove Art Museum and Gallery, Glasgow, Scotland; Woodlawn Cemetery, Bronx; and private collections.
November 3, 2022 will be the 20th Anniversary of Memorial To A Marriage.
---
Luxury Real Estate Paintings

Yale University Art Gallery
New Haven, CT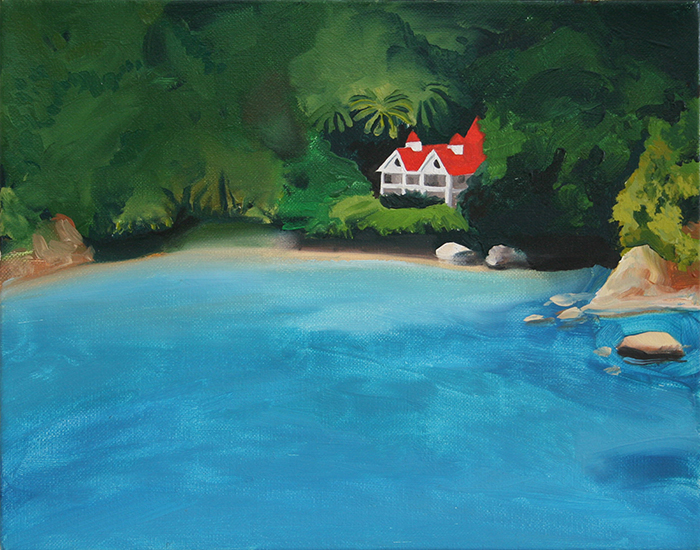 In 2000, I created a series of paintings inspired by luxury real estate properties that were offered for sale by Sotheby's International Realty. Each oil painting is very small, no larger than nine by fifteen inches because I wanted to emphasize their intimate, rare quality. The title of each painting is the price and location of the estate.

When I think about them historically, they conjure up images of Dutch seventeenth-century landowners and their houses. Although my 21st century versions have no horizon lines because the vantage point of the source photos are aerial. This requires hiring a plane, a pilot, and a specialized aerial photographer. My feet are on the ground; these properties are otherworldly and beyond reach. In all my work I construct a critical vision of a life and lifestyle that are beyond the means of most Americans, but desired by many.

Luxury Real Estate Paintings were also exhibited in Patricia Cronin, The Domain of Perfect Affection, 1993 to 2003 UB Art Gallery, University at Buffalo, Buffalo, NY.
---
Tack Room

White Columns, New York NY
April 17 - May 24, 1998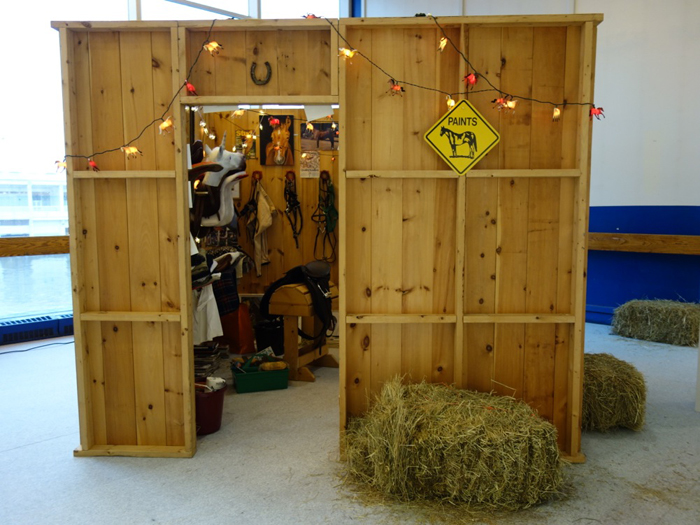 In Tack Room,Cronin uses the "equestrian lifestyle" as lens through which to see sexuality and class. Here the artist focuses on the subjectivity of young women, girls, and the object of desire for many of them – horses and blends an American fantasy of affluent White Anglo-Saxon Protestant milieu with subversive female empowerment.

Cronin hand built the wooden paneled 12' x 12' architectural immersive installation replicating the part a stable on a large estate where all the equestrian accoutrements are stored and filled it with "ready-made" found objects and handmade art works, including authentic equipment: saddles, bridles, whips, and crops; clothing: breeches, suede chaps, gloves and helmets; nutrition and veterinarian aids: bandages, vitamins, treats, ointments, and oils; sporting materials: magazines, ribbons, trophies, and posters; and included the artist's bronze horse sculptures and equine oil portrait paintings.

After closer viewing, the sensual materiality of the room's contents, the smell of leather and hay permeate the installation, the accumulated suede chaps, leather bridles, metal bits, whips and paddles suggest a more erotic reading of the work and open up Cronin's fantasy of what an architectural space where female sexuality isn't ridiculed, but rather celebrated could look like.

Tack Room debuted at White Columns, New York, NY (1998) and was named one of the top ten shows of 1998 by art critic Lisa Liebmann in Artforum. It then traveled to Real Art Ways, Hartford, CT (1999), the UB Art Gallery at SUNY Buffalo, NY (2004), The Armory Show, New York, NY (2017) in Platform, the curated section of large installations curated by Eric Shiner and most recently in "Horses?" at Chart Gallery, New York, NY (2021).
---
Bronze Horses

UB Art Gallery
University of Buffalo, Buffalo NY
March 26 - May 22, 2004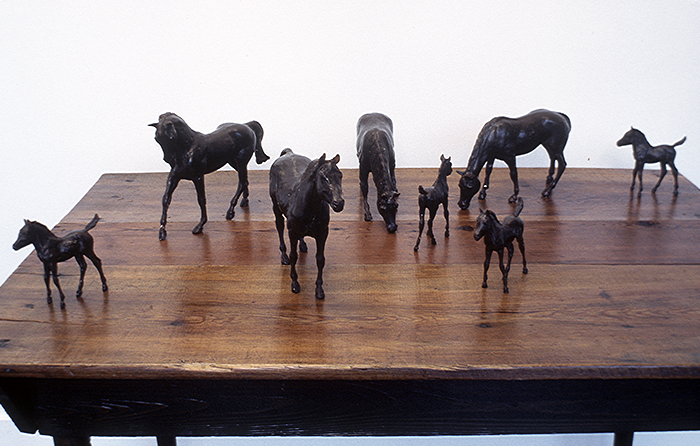 ---
Pony Tales

Brent Sikkema - Wooster Gardens, New York NY
January 17 - February 15, 1997




Brent Sikkema- Wooster Gardens presents Patricia Cronin's first solo show, Pony Tales an exhibition of 50 portraits of specific horses.

Continuing the project of representing her own subjectivity, Cronin goes into territory where few have ventured: representing the female subject without relying on the over-determined image of the female body. Horses, often the center of preadolescent girls' imaginations, are presented in salon style of 50 portraits, ovals and rectangles. They are inspired by horse magazines whose subscribers are overwhelmingly women and girls, as well as, photos and sketches by the artist taken at stables in Brooklyn and Long Island. Cronin grounds her questions about status, class and female autonomy by combining girlish objects of desire with blue blood class aspirations.

Pony Tales went on to travel and was included in group shows: Horse Play at Real Art Ways, Hartford, CT and Here Kitty, Kitty at the Atlanta Contemporary Art Center, Atlanta, GA, as well as solo shows Patricia Cronin: The Domain of Perfect Affection at Allcott Gallery, University of North Carolina at Chapel Hill, NC and Patricia Cronin, The Domain of Perfect Affection, 1993 -2003 at the UB Gallery, University at Buffalo, NY.
---
Erotic Watercolors

Trial Balloon Gallery, New York NY
March 1994


Trial Balloon Gallery presents The Long Weekend, Ellen Cantor, Patricia Cronin, Marilyn Minter.

In response to the Culture Wars of the 1990s, Cronin blended performance and documentation by creating a series of erotic, feminist, performance-based polaroid photographs and watercolor paintings to both extend and critique the role of sexuality throughout art history, specifically to deconstruct the heterosexual white male gaze.

Prompted by one of Cronin's favorite paintings, Gustave Courbet's "The Sleepers" (1866), she wondered, "What do I do if I'm one of those women AND the cultural producer? What does it look like from within our erotic space?" The artist placed herself, the cultural producer, simultaneously into the roles of nude female object (traditional) and artist/subject (untraditional). Cronin balances the boldness of her critique by subverting the ladylike medium of watercolor to depict female sexuality with frank directness.

The work was made from the viewpoint of the artist as participant, bringing the viewer into a lesbian erotic space from the perspective of one of the lovers. These works give voice to a particular experience (that of Cronin herself, whose vantage point as a participant is purposefully utilized throughout the work) while simultaneously speaking to larger questions regarding queer, lesbian or feminist subjectivities and the extent to which they are truly or accurately articulated and represented in artistic practice and the culture at large.

Works from this series have been exhibited extensively in museums and galleries in the U.S. and internationally, including: Sonnabend Gallery, Casey Kaplan Gallery, Richard Anderson, White Columns, Postmasters, and Exit Art, all New York, NY, UB Art Gallery, SUNY Buffalo, NY, Arthur Roger, New Orleans, LA, Haverford College, Haverford, PA, Irvine Art Gallery, University of California, Irvine, CA , South Florida Art Center, Miami, FL, Center on Contemporary Art, Seattle, WA, Station Museum of Contemporary Art, Houston, TX; ConnerSmith, Washington, DC; Tang Teaching Museum, Skidmore College, Saratoga Springs, NY and Galleria Alessandra Bonomo, Rome, Italy; Gallery of Modern Art, Glasgow, Scotland; and Cobra Museum, Amsterdam, The Netherlands, among others.
---
Erotic Polaroids

David Zwirner, New York NY
May 1 – June 12, 1993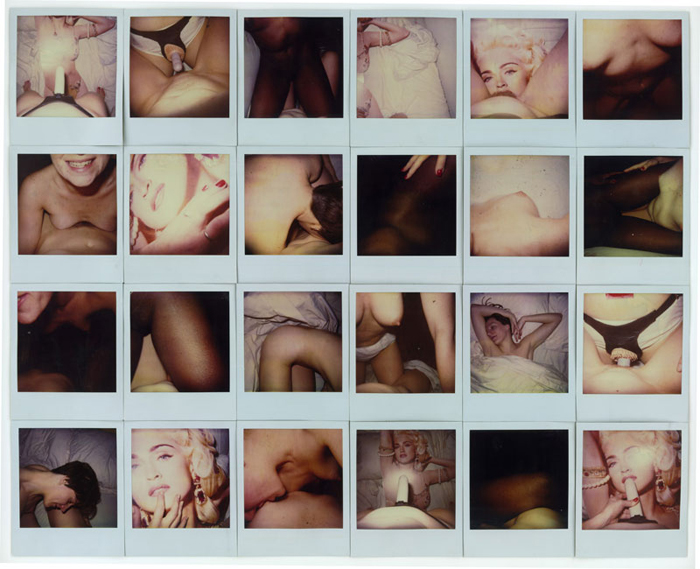 Sexual imagery created by and for women has a recent but powerful history. Coming To Power pays homage to the first generation of women artists who pioneered a new artistic genre in the mid 60s and early 70s using explicit sexual imagery. Artists such as Louise Bourgeois, Carolee Schneemann, Hannah Wilke and Nancy Spero appropriated this tradition and transformed it into an expression of female freedom and identity. Coming to Power also presents the work of a younger generation of female artists. In contrast to the previous generation's more politicized work, the intended impact of the younger artists' work is to elicit sexual excitement as well as express autonomous pleasure, passion and pain. Together both generations engage in a dialogue previously dominated by men and disallowed to women by the taboos in society. The exhibition creates both the historical context for female erotic work, and a contemporary forum for further sexual art by women.

Participating Artists: Lutz Bacher, Lynda Benglis, Judith Bernstein, Louise Bourgeois, Ellen Cantor, Patricia Cronin, Mary Beth Edelson, Nicole Eisenman, Nancy Fried, Nan Goldin, Nancy Grossman, Pnina Jalon, G.B. Jones, Doris Kloster, Joyce Kozloff, Zoe Leonard, Monica Majoli, Marilyn Minter, Alice Neel, Lorraine O'Grady, Yoko Ono, Carolee Schneemann, Joan Semmel, Cindy Sherman, Nancy Spero, and Hannah Wilke.

"Boys" and "Girls" from the Erotic Polaroids Series have also been exhibited in NYC 1993: Experimental, Jet Set, Trash and No Star, New Museum and Behind The Green Door at Harris Lieberman Gallery, both in New York, NY.