Interview with Patricia Cronin
National Portrait Gallery, Smithsonian Institution, 2019
Patricia Cronin discusses her sculpture, Memorial to a Marriage (modeled 2002, cast 2013). The work was featured in the exhibition, Eye to I: Self Portraits from 1900 to Today. The exhibition was featured in the National Portrait Gallery from Nov. 2, 2018 to Aug. 18. 2019
---

Patricia Cronin: Design Matters Podcast
October 14 2018

Debbie Millman talks to Patricia Cronin about Art and Politics.
---

Visual Assault
BBC Radio 4
October 11 2018

Artist and photographer Zoe Buckman sets off to find out how other female artists around the world are reacting and responding to sexual discrimination and violence.
---
Patricia Cronin: Social Justice and Aesthetic Responsibilities

NYU Florence
2017
---
Patricia Cronin on Making Art History
Studio International
April 13, 2017

This is one of the twelve large-scale projects that Eric Shiner, vice president of contemporary art at Sotheby's curated for the fair's new Platform section. Picture the intensity of immersive multi-media room-sized installations by male artists such as Jason Rhodes or Paul McCarthy…but with a female perspective. This free-standing wood replica of an essential space within a horse barn is filled with real-life evidence of the artist's personal passion for horses. Her own horse paintings and small cast bronze horse sculptures are embedded in the display of sexually suggestive leather saddles, bridles, whips and suede chaps, images of horse-crazy girls, pages from Playboy and Stud magazine's "Breed of the Month" centerfolds. Cronin's reprise of the immersive environment she exhibited 20 years ago sparks this conversation about feminist issues, politics, and the artist's resolve to represent untold stories about women.

---
A Conversation on Tack Whack and Quack
The Armory Show
March 4, 2017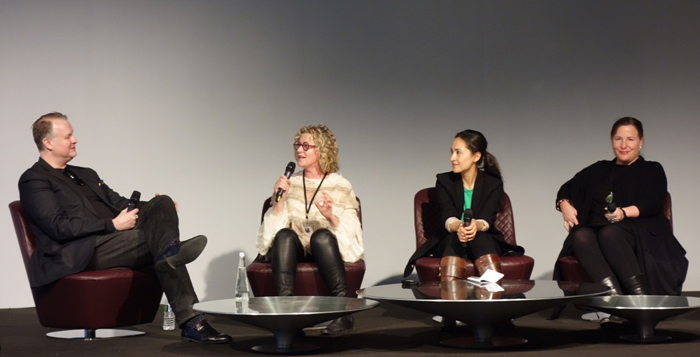 Moderated by Eric Shiner Senior Vice President of Contemporary Art, Sotheby's, this segment features a panel discussion with participants Patricia Cronin, Artist, New York; Maura Reilly, Executive Director, National Academy, New York; Shahzia Sikander, Artist, New York

---
Patricia Cronin, Yale Norfolk Art'85

Yale Norfolk Summer School of Art
June 27 2016
---

Artist Talk : All Is Not Lost
victoria and albert museum, london, uk
hichhauser auditorium, sackler centre
october 16, 2012

New York conceptual artist Patricia Cronin talks about her work, which critiques issues of sexuality, gender and class through the reinvention of traditional art forms. A discussion and Q&A session led by Amy Mechowski, Assistant Curator of Sculpture, focuses on the ways in which Patricia's work relates to objects in the V&A collections.