Erotic Polaroids
David Zwirner, New York NY
May 1 – June 12, 1993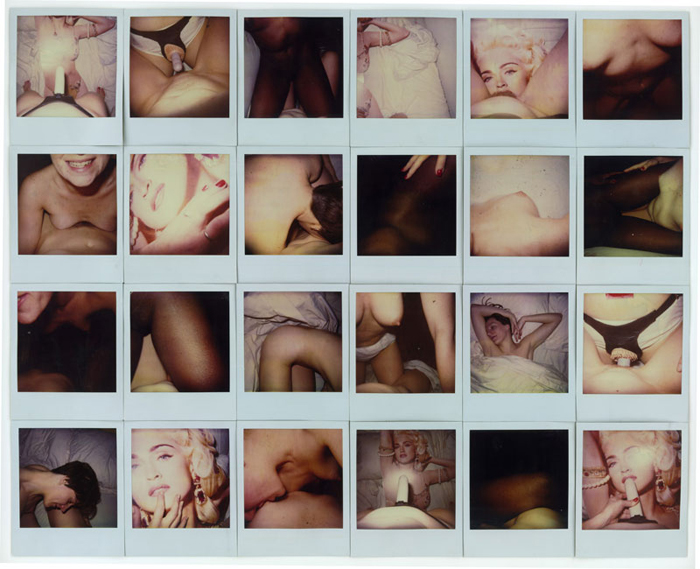 "Girls," 1993, 24 polaroid photographs, 17" x 21"
Collection David and Monica Zwirner


"Boys," 1993, 24 polaroid photographs, 17" x 21"
Collection David and Monica Zwirner

David Zwirner exhibits "Boys" and "Girls" in the show, Coming To Power: 25 Years of Sexually X-Plicit Art By Women, May 1 – June 12, 1993, New York, NY.
Sexual imagery created by and for women has a recent but powerful history. Coming To Power pays homage to the first generation of women artists who pioneered a new artistic genre in the mid 60s and early 70s using explicit sexual imagery. Artists such as Louise Bourgeois, Carolee Schneemann, Hannah Wilke and Nancy Spero appropriated this tradition and transformed it into an expression of female freedom and identity. Coming to Power also presents the work of a younger generation of female artists. In contrast to the previous generation's more politicized work, the intended impact of the younger artists' work is to elicit sexual excitement as well as express autonomous pleasure, passion and pain. Together both generations engage in a dialogue previously dominated by men and disallowed to women by the taboos in society. The exhibition creates both the historical context for female erotic work, and a contemporary forum for further sexual art by women.

Participating Artists: Lutz Bacher, Lynda Benglis, Judith Bernstein, Louise Bourgeois, Ellen Cantor, Patricia Cronin, Mary Beth Edelson, Nicole Eisenman, Nancy Fried, Nan Goldin, Nancy Grossman, Pnina Jalon, G.B. Jones, Doris Kloster, Joyce Kozloff, Zoe Leonard, Monica Majoli, Marilyn Minter, Alice Neel, Lorraine O'Grady, Yoko Ono, Carolee Schneemann, Joan Semmel, Cindy Sherman, Nancy Spero, and Hannah Wilke.

"Boys" and "Girls" from the Erotic Polaroids Series have also been exhibited in NYC 1993: Experimental, Jet Set, Trash and No Star, New Museum and Behind The Green Door at Harris Lieberman Gallery, both in New York, NY.
Press
---
"The DA-Zed Guide to Porn Art"
Dazed Magazine | August 2013
"Interview : Patricia Cronin"
zing magazine | April 2013
"When Walls Come Falling Down: Left Political Art Timeline, 1989 – 2000"
The Huffington Post | April 16 2012
"Girlfriends : Up Close and Personal with Artist Patricia Cronin"
Paper Magazine | April 1995
"Patricia Cronin and Lee Gordon"
The New York Times | May 5 1995
"Gay Pride (and Anguish) Around the Galleries"
The New York Times | June 24 1994
"A Year in the Life: Tropic of Painting"
Art In America | October 1994