Shrine for Girls, Venice
Solo Collateral Event of the 56th International Art Exhibition – la Biennale di Venezia
Curated by Ludovico Pratesi, Presented by Brooklyn Rail Curatorial Projects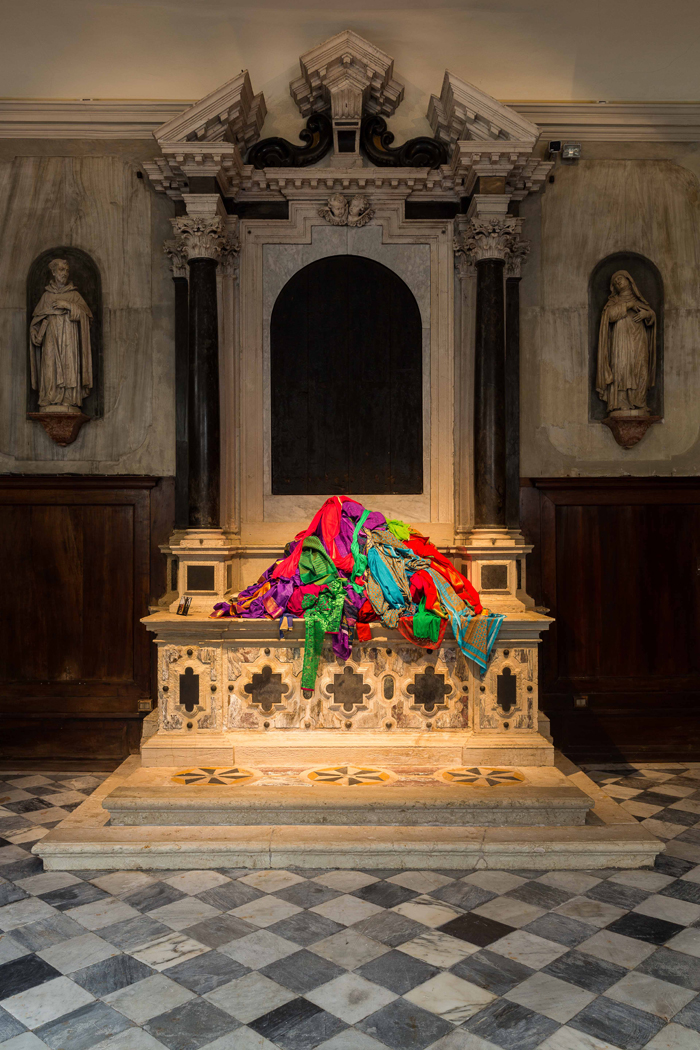 Chiesa di San Gallo, Venice, Italy
May 6 – November 22, 2015
Although the United Nations passed the Universal Declaration of Human Rights in 1948, women and girls around the world continue to be among the most vulnerable members of our global society. Often facing violence, repression, and enforced ignorance, this young female populace is subjected to a horrifying existence on earth.

Inside the exquisite sixteenth-century Church of San Gallo, where Bill Viola showed in 2007, New York-based conceptual artist Patricia Cronin has created a shrine in their honor. For over two decades, critically acclaimed artist Patricia Cronin has created compelling works, many with social justice themes focusing on gender. Here, she has gathered hundreds of girls' clothes from around the world and arranged them on three stone altars to act as relics of these young martyrs. Commemorating their spirit, this dramatic site-specific installation is a meditation on the incalculable loss of unrealized potential and hopelessness in the face of unfathomable human cruelty; juxtaposed against the obligation and mission we have as citizens of the world to combat this prejudice.
---
Come Together : Surviving Sandy

Industry City
220 36th Street, Sunset Park, Brooklyn, ny
October 20 - december 15 2013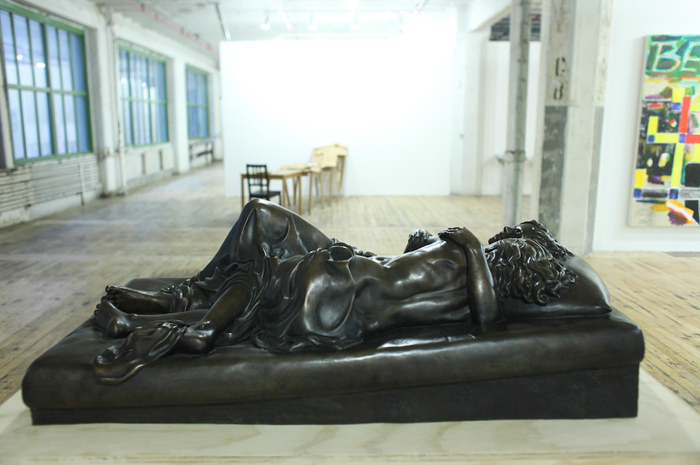 ---
"Le Macchine, Gli Dei e I Fantasmi"
(Machines, Gods and Ghosts)

Curated by Ludovico Pratesi
Musei Capitolini, Centrale Montemartini Museo
Rome, Italy
October 9 - november 20 2013
Musei Capitolini, Centrale Montemartini Museo is pleased to announce Le Macchine, Gli Dei e I Fantasmi an exhibition of 6 new works by Rome Prize awarded artist Patricia Cronin, the first contemporary artist to be exhibited in the converted electrical power plant. Cronin's new body of work, created specifically for the unique industrial space, features monumental ghost images inspired by her recent series rediscovering the life and career of the famous American sculptor, Harriet Hosmer and the classical statues, masterpieces from the Capitolini Musei collection, which are permanently on view at the Museum. Interspersed amongst the marble sculptures and industrial archeology, the fantasmi, printed on large-scale translucent silk panels, inject life into the vast Engine Hall, seemingly breathing and pulsing with each passing draft. At once present and absent, the veils offer physical, albeit ephemeral, presence to what is void, reminding us of the fickle, unstable, and fleeting nature of life and history.
---

NYC 1993: Experimental, Jet Set, Trash and No Star
new museum, New York, NY
february 13 - may 26, 2013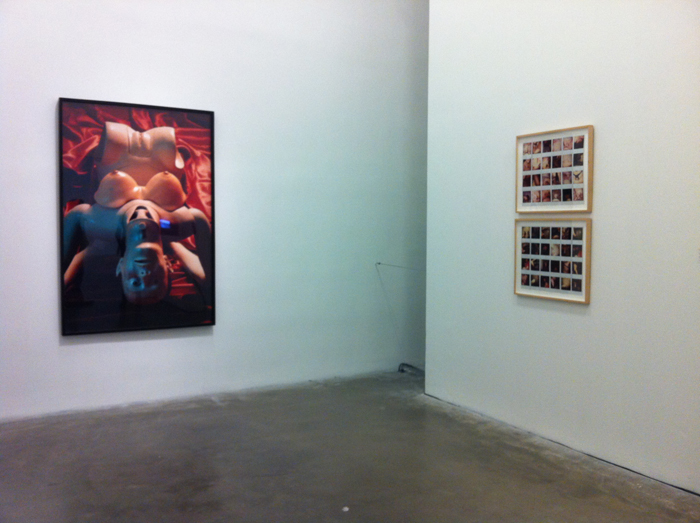 "Girls" and "Boys" were first exhibited in "Coming to Power: 25 Years of Sexually X-plicit Art by Women," an exhibition co-curated by Cronin and fellow artist Ellen Cantor at David Zwirner in 1993. Cronin and Cantor were interested in images that expressed a fuller idea of female sexuality than those dominating culture and society at the time, which mainly consisted of objectified images of women and were often produced by men. The work presented in "Coming to Power" included painting, sculpture, photography, and performance by women of different generations, ethnicities, and sexual orientation, tracing a history of potent sexual art by women for women.

"Girls" and "Boys" capture the sexual act from the perspective of the participants, a point of view from within the erotic space rather than from an objective place of observation. Cronin's Polaroids incorporate transgressive elements such as bondage props as well as images of cultural and political figures such as Madonna and George H. W. Bush. Cronin had also been making erotic watercolors at the time that depicted the artist and her partner, in extreme close-up and larger-than-life scale, in a range of intimate acts, both tender and highly sexual. In contradiction to much of the lesbian pornography in circulation (made by straight men for straight men), Cronin's images give agency to the sexualized female as cultural and visual producer, speaking to larger questions regarding queer, lesbian, or feminist positions within society.

---
Dante: The Way Of All Flesh
Ford projects, new york, ny
november 8 - december 21, 2012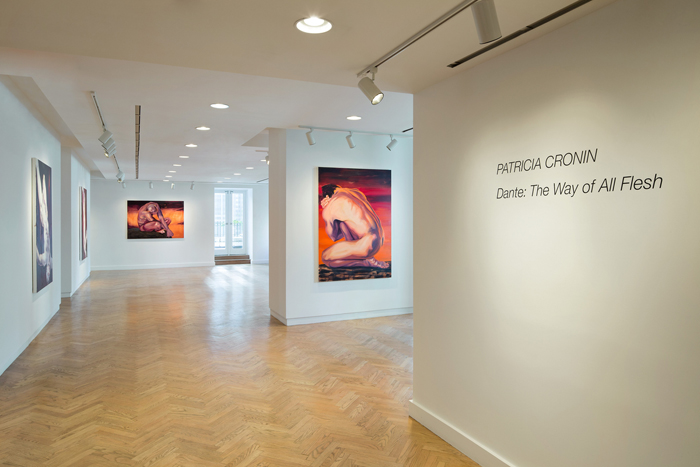 Dante: The Way Of All Flesh is a meditation on the human condition, using Dante Alighieri's Inferno as a point of departure. Comprised of oil paintings and watercolors, Cronin continues Dante's exploration of justice and revenge using her own expressive language. This new cycle of figurative works are representative of the artist's response to our current global circumstances. By focusing on the human form, Cronin reinforces the concept of our shared humanity, albeit from the perspective of a disillusioned present.
The painterly figures that Cronin creates take their visual cues from over seven centuries of artistic interpretations, beginning with 14th century illuminated manuscripts up to Italian fashion magazines, in addition to tracings of the artist's own body and her archive of personal photographs taken throughout Italy. With a deft understanding of her materials, Cronin allows the figures to take shape in natural states and creates surfaces with both bold and meticulous strokes. With an intense palette of reds, oranges, cool blues and purples, the artist depicts the dead and the hell of their own design.
---

Memorial to a Marriage

Kelvingrove art gallery and museum, glasgow, scotland
May 2012 - Present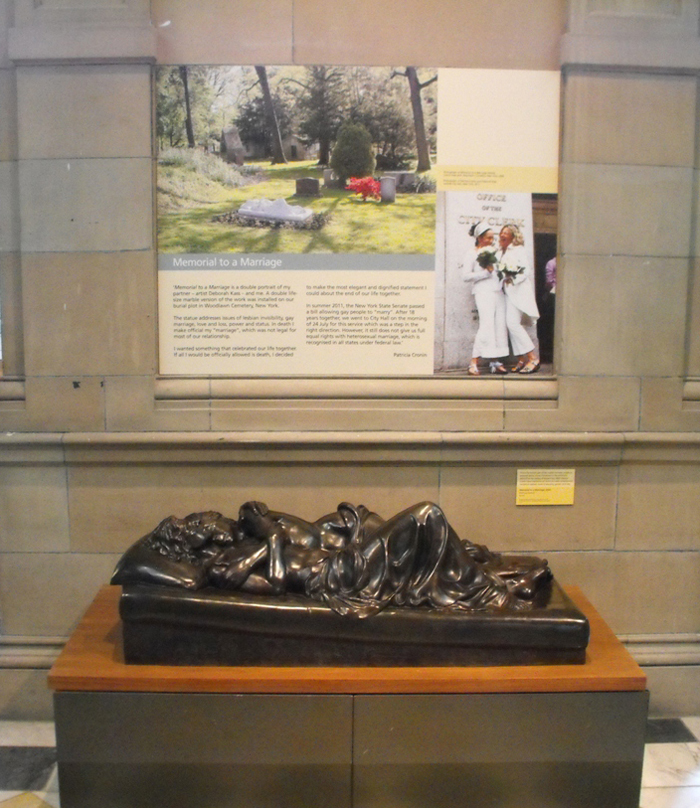 Memorial To A Marriage, Bronze, 2/3rds scale
on permanent view at Kelvingrove Art Gallery and Museum, Glasgow, Scotland.
---

Patricia Cronin : All Is Not Lost

newcomb art gallery, tulane university, new orleans, la
all photographs by Owen Murphy
april 25 - june 30 2012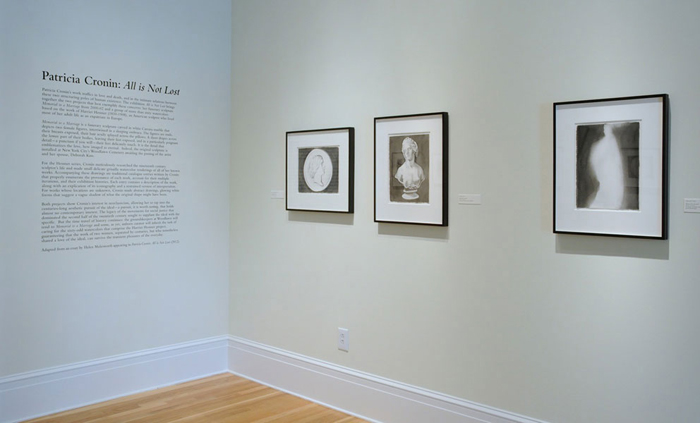 Patricia Cronin's work traffics in love and death, and in the intimate relations between these two structuring poles of human existence. The exhibition All is Not Lost brings together the two projects that best exemplify these concerns: her funerary sculpture Memorial to a Marriage from 2000-02 and a group of more than sixty watercolors based on the work of Harriet Hosmer (1830-1908), an American sculptor who lived most of her adult life as an expatriate in Europe.
Memorial to a Marriage is a funerary sculpture carved in white Carrara marble that depicts two female figures, intertwined in a sleeping embrace. The figures are nude, their breasts exposed, their hair sexily splayed across the pillows. A sheet drapes across the lower part of their bodies, leaving their feet exposed, and in a particularly poignant detail – a punctum if you will – their feet delicately touch. It is the detail that emblematizes the love, here imaged as eternal. Indeed, the original sculpture is installed at the New York City's Woodlawn Cemetery awaiting the passing of the artist and her spouse, Deborah Kass.
For the Hosmer series, Cronin meticulously researched the nineteenth century sculptor's life and made small delicate grisaille watercolor renderings of all of her known works. Accompanying these drawings are traditional catalogue entries written by Cronin that properly enumerate the provenance of each work, account for their multiple iterations, and their exhibition histories. Each entry contains a description of the work, along with an explication of its iconography and a restrained version of interpretation. For works whose locations are unknown, Cronin made abstract drawings, glowing white forms that suggest a vague shadow of what the original shape might have been.
Both projects show Cronin's interest in neoclassicism, allowing her to tap into the centuries-long aesthetic pursuit of the ideal – a pursuit, it is worth noting, that holds almost no contemporary interest. The legacy of the movements for social justice that dominated the second half of the twentieth century sought to supplant the ideal with the specific. But the time travel of history continues: the groundskeepers at Woodlawn will tend to Memorial to a Marriage and some, as yet, unborn curator will inherit the task of caring for the sixty-odd watercolors that comprise the Harriet Hosmer project, guaranteeing that the work of the two women, separated by centuries, but who nonetheless shared a love of the ideal, can survive the transient pleasures of the everyday.
Adapted from an essay by Helen Molesworth appearing in Patricia Cronin: All is Not Lost (2012)